Searchable Map and Satellite View of San Marino using Google Earth Data
Satellite view is showing the Southern European country, an enclave in north-east Italy, south west of the Italian city of Rimini.
San Marino occupies an area of just 61 km², making it the third smallest country in Europe, only Monaco and Vatican City are smaller.
The tiny republic has a population of 30.000 people.
Capital of San Marino is the City of San Marino (Città di San Marino), largest municipality is Dogana.

San Marino Historic Centre and Mount Titano are a UNESCO World Heritage Site. It is inscribed as a testimony to the continuity of a free republic since the Middle Ages. The city centre includes fortification towers, walls, gates and bastions, as well as a neo-classical basilica of the 19th century, 14th and 16th century convents, and the Palazzo Publico of the 19th century, as well as the 18th century Titano Theatre.


The map shows San Marino with cities, towns, its highway, main roads and streets.
To find a location use the form below. To view just the map, click on the "Map" button.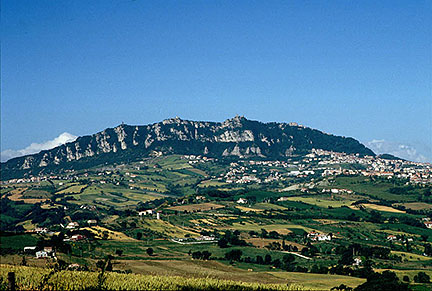 San Marino on Monte Titano (Mount Titan)


Image: Nickel Chromo






Bookmark/share this page