Mauritania is a country in Northwest Africa bordering the North Atlantic coast in west. The country is sparsely populated because most of the country is covered by the Sahar Desert. Mauritania's population of only 3 million people is concentrated in the capital city Nouakchott and in the region where the Senegal River forms the border with Senegal, the river helps to form an alluvial fan that supports agriculture in the area.

With an area of 1,025,520 sq km the country is about twice the size of Spain, or slightly larger than the US states of Texas and New Mexico combined.

Major geographical features of Mauritania.

The Sahara, a vast arid to semi-arid area across the whole of North Africa from the North Atlantic Ocean to the Red Sea. It is the world's largest desert, covering about 8,600,000 km² (3,320,000 sq mi), roughly the size of the United States. The Sahara covers parts of the countries of Morocco, Algeria, Tunisia, Libya, Egypt, Western Sahara, Mauritania, Mali, Niger, Chad, and Sudan.


Map is showing Mauritania, and the surrounding countries with international borders, the national capital Nouakchott,
province capitals, major cities, main roads, Mauritania's only railroad and major airports.

Border Countries:
Algeria, Mali, Senegal and Western Sahara, which is annexed by Morocco




You are free to use this map for educational purposes, please refer to the Nations Online Project.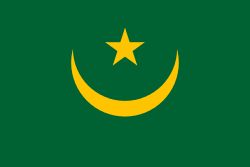 Bookmark/share this page


One World - Nations Online
All Countries of the World