Angola is a republic on the western coast of southern Africa. The country has an area of 1,246,700 km², compared it is slightly larger than South Africa or slightly less than twice the size of the U.S. state of Texas.

Angola has a population of 24.4 million people (census 2014). Spoken languages are Portuguese (official), and several Bantu languages. Largest city and the national capital is Luanda.

Angola is bordered by the Atlantic Ocean in west, Namibia in the south, the Democratic Republic of the Congo (former Zaire) in the north, and Zambia in the east.

The exclave province of Cabinda is separated from Angola by a tongue of the Democratic Republic of the Congo and has also borders with the Republic of the Congo.
Principal airport of Angola is Quatro de Fevereiro Airport (IATA code: LAD), Luanda, major regional airports are located at Huambo, Luena, and Uìge.

Map is showing Angola and surrounding countries with international borders, and Angola's provinces (províncias) with boundaries.



You are free to use this map for educational purposes, please refer to the Nations Online Project.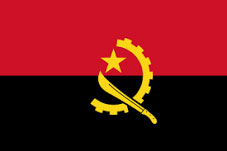 Bookmark/share this page


One World - Nations Online
countries of the world