Cape Verde is an island country in Africa that consists of a group of islands in the Atlantic Ocean 660 km off the coast of Senegal, named after the most western cape in Africa.

The archipelago is divided into two island groups, the Barlavento (windward) islands with the islands of Santo Antão, São Vicente, Santa Luzia, São Nicolau, Sal, and Boa Vista and the Sotavento (leeward) islands with the islands of Maio, Santiago, Fogo, and Brava.

Map is showing the islands of Cape Verde with municipality boundaries, the national capital Praia, municipality capitals, major towns, main roads, and the airport.

Countries with maritime borders are: Gambia, Guinea-Bissau, Mauritania, and Senegal.

Related countries: Portugal. Cape Verde was previously uninhabited, the islands were settled by the Portuguese from the 15th century and later served as one of the trading centers for African slaves. Cape Verde remained a Portuguese colony until 1975, when an independent republic was established.




You are free to use this map for educational purposes, please refer to the Nations Online Project.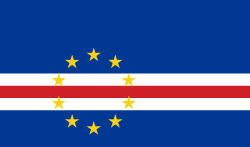 Bookmark/share this page


One World - Nations Online
All Countries of the World