About Mozambique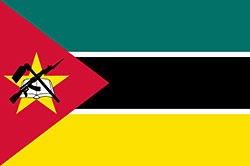 The map shows Mozambique, officially the Republic of Mozambique, a country on the eastern coast of southern Africa, bounded by the Mozambique Channel and the Indian Ocean in the east. The state borders
Malawi
,
South Africa
,
Swaziland
,
Zambia
, and
Zimbabwe
. A long stretch of the Rovuma River forms the border with
Tanzania
in the north. A section of the northwestern border runs through Lake Malawi (Lake Nyasa). Additionally, Mozambique shares maritime borders with
Comoros
,
Madagascar
, and Mayotte Island (
France
).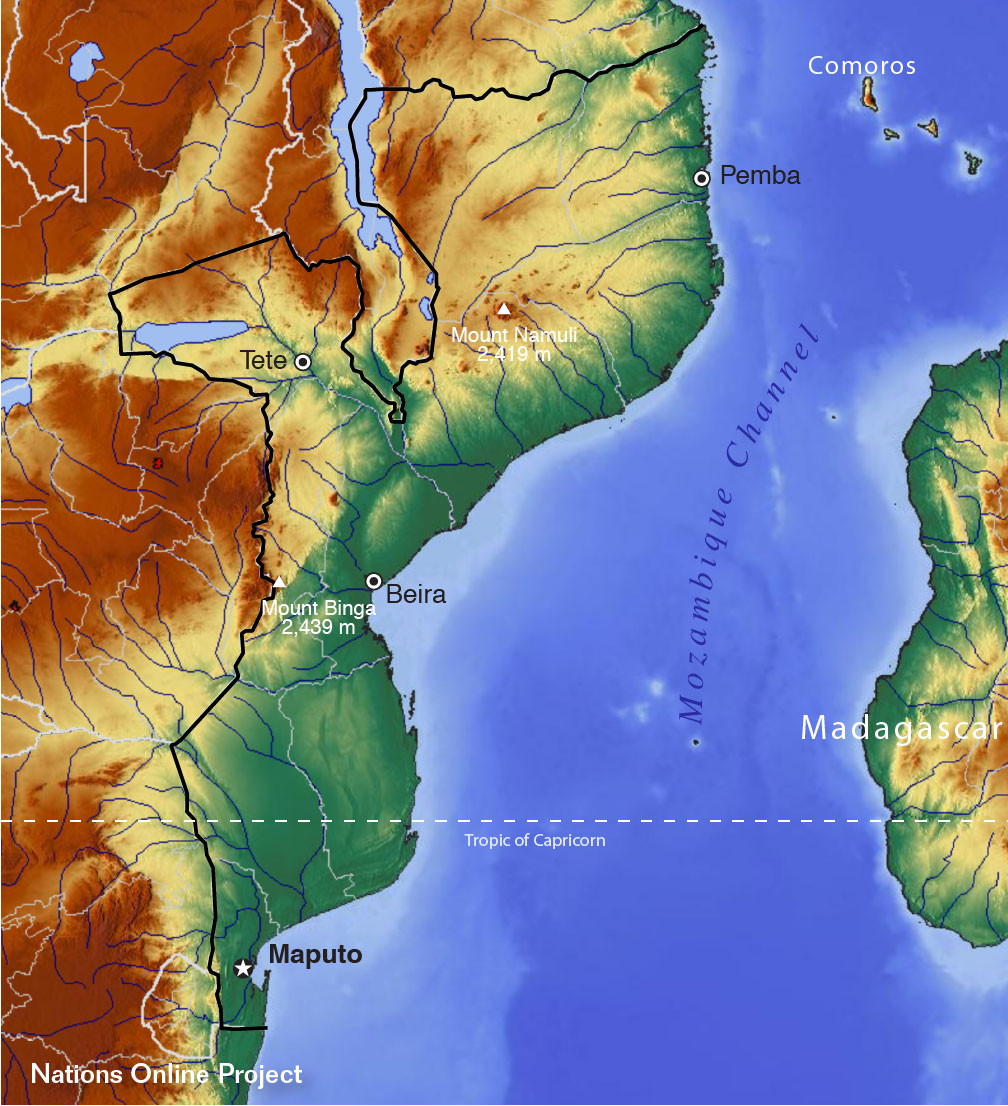 The country occupies an
area
of 801,590 km², compared it is somewhat larger than three times the size of the
United Kingdom
or slightly less than twice the size of the
U.S. state
of
California
.
The Zambezi river, the largest African river that flows into the Indian Ocean, cuts through the country from west to east and divides it into two topographical regions. South of the Zambezi, the southern part of the country, is a broad coastal lowland covered with tropical savanna; the Limpopo, the Changane and the Save rivers drain the southern part of Mozambique.
North of the Zambezi delta, the coastal plains narrow and the landscape rises gradually up to the inland hills and the Nyassa plateau of the Rift Valley in the northwest. It is the location of
Mount Namuli
, at 2,419 m the second highest mountain in the country.
The highest point of Mozambique is the peak of
Monte Binga
(Mount Binga) at 2,436 m, located on the border between Zimbabwe and Mozambique west of the city of Beira.
Mozambique has a
population
of 27.2 million people (est. 2018). The capital and largest city is
Maputo
, located at Maputo Bay in the country's far south. Spoken
languages
are Portuguese (official) and several Bantu languages like Makhuwa and Tsonga.