Cameroon is a West African country bordering the Bight of Biafra in southwest.
Capital city is Yaounde. Spoken languages are French and English (official), as well as many local languages and pidgin.


Map is showing Cameroon and the surrounding countries with international borders, provinces boundaries, the national capital Yaoundé, provinces capitals, major cities, main roads, railroads and airports.


Border Countries: Central African Republic, Chad, Republic of the Congo (Brazzaville), Equatorial Guinea, Gabon, Nigeria






You are free to use this map for educational purposes, please refer to the Nations Online Project.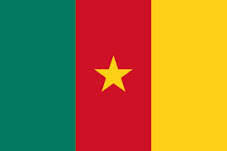 Bookmark/share this page


One World - Nations Online
All Countries of the World