Map is showing the Union of the Comoros (French: Union des Comores) an island group in the Indian Ocean east of Mozambique on the African continent and west of the northern tip of Madagascar. Nearest Countries to the Comoros: Mozambique, Tanzania, Madagascar, and the Seychelles.

With an area of 2,235 km² (including Mayotte) the island nation is slightly smaller than Luxembourg or slightly smaller than the U.S. state of Rhode Island.

The country officially consists of the four main islands Ngazidja (French: Grande Comore), Mwali (French: Mohéli), Nzwani (French: Anjouan); Mahoré (French: Mayotte), but the fourth island (Mayotte) is administered by France.

The islands are of volcanic origin and therefore mountainous, highest point is Karthala with 2,360 m, an active shield volcano on Grande Comore island.

The archipelago has a population of 770,000 (in 2015), national capital is Moroni on the island of Ngazidja (somtimes written Njazidja). Spoken languages are Comorian (most widely used), Arabic, and French.




You are free to use this map for educational purposes, please refer to the Nations Online Project.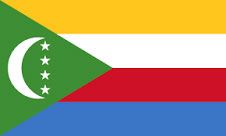 Bookmark/share this page


One World - Nations Online
all countries of the world