Map is showing Gabon, a country at the Equator in West-Central Africa bordering the Atlantic Ocean in west. Gabon is bordered by Equatorial Guinea, Cameroon, and the Republic of the Congo.

With an area of

267,668

km², the country is somewhat larger than the United Kingdom, or slightly smaller than the U.S. state of Colorado.

Because of its oil and mineral reserves and a relatively small population, Gabon is one of Africa's wealthier nations, and therfore the country is able to maintain and conserve its pristine rain forests with their rich biodiversity. Tropical rainforests covering 85% of the territory, more than 10% of Gabon's area is protected parkland, there are 13 National Parks in the country. Among them the forested coastal terrain of the Loango National Park. 'Africa's Last Eden', shelters a broad diversity of wildlife from gorillas and hippos to whales.
Lopé National Park consists of mostly rainforest, but in in the north the park contains the last remnants of grass savannas. Akanda Park is known for its mangroves and tidal beaches. Highest mountain in Gabon is Mont Iboundji with 1,575 m.

The country has a population of 1.5 million people. Gabon's national capital is Libreville.
Spoken languages are French (official) and West African languages most notably Fang, and Myene.



You are free to use this map for educational purposes, please refer to the Nations Online Project.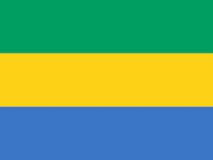 Bookmark/share this page


One World - Nations Online
All Countries of the World