Benin is a from north to south long stretched country in West Africa, east of Togo and west of Nigeria, it is bordered to the north by Burkina Faso and Niger, in south by the the Bight of Benin, in the Gulf of Guinea, that part of the North Atlantic Ocean which is roughly south of West Africa. Benin's coastline is just 121 km (75 mi) long.
With an area of 112,622 km² the country is slightly larger than Bulgaria, or slightly smaller than the U.S. state Pennsylvania. Benin's former name, until 1975, was Dahomey.

Benin has a population of 9 million people (est. 2012), the majority of the inhabitants live in the coastal region. Spoken languages are French (official), West African languages, like Fon and Yoruba are the most common speeches in south, at least six major tribal languages are spoken in north.

Seat of the government and capital of the Republic is Porto-Novo, Benin's largest city and major port is Cotonou, the cultural and political center of the country.

Short Facts about Benin's Geography
Benin's geography offers a low-lying, sandy, coastal plain, with a number of lakes in south, followed to the north by kind of plateaus with altitudes between 20m and 200m, carved from north to south by valleys made by a number of rivers which drain into the Ocean.

The rest of the country is flat lands scattered with some hills, rarely reaching up to 400m. Only in north west there are extends of the Togo Mountains, in Benin known as the Atacora mountain range with the nations highest elevation Mont Sokbaro with 658 m, the mountain is located almost in the middle of the country, on the border between Benin and Togo. In north west there is Pendjari National Park, the game reserve is adjoining the Arli National Park in Burkina Faso. The parks are known for their wildlife, they are home to some of the last populations of big game. The parks and game reserves are, together with adjoining Nigeria National Park, designated as Protected Areas of the International Union for Conservation of Nature (IUCN).

Main rivers in Benin
Alibori, Alpouro, Kouffo (Couffo), Mékrou, Mono (border river), Niger (border river), Okpara, Oti, Ouémé, Pendjari, Sota, Tassiné and Zou.


Map is showing Benin and the surrounding countries with international borders, provinces boundaries, the national capital Porto-Novo, Pendjari National Park, provinces capitals, major cities, main roads, railroads and airports.




You are free to use this map for educational purposes, please refer to the Nations Online Project.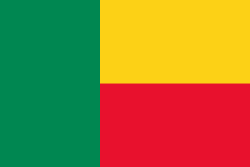 Bookmark/share this page


One World - Nations Online
All Countries of the World