Togo (official name Togolese Republic) is a country in West Africa with a short coastline on the Bight of Benin of the Gulf of Guinea.

The thin strip of land

that is running north to south has an area of 56,785 km², it is about the size of Croatia or slightly smaller than the U.S. state of West Virginia. It is bordered by Benin, Burkina Faso, and Ghana. Because of the length of the country it stretch through six distinct geographic regions and climate varies from savanna to tropical.

Geography
Togo's landscape offers gently rolling savanna in the north, which give way to the central hills, a southwest–northeast range of hills known as the Chaîne du Togo; followed by the southern plateau which is all part of the Guinean forest-savanna mosaic, an ecoregion in West Africa, a zone of interlaced forests, savannas, and grassland which covers large areas of many West African nations. In Togo actually the forest-savanna mosaic extends all the way south to the coast, geographers named it the Dahomey Gap.

Togo's south is dominated by a low coastal plain with extensive lagoons and marshes.

Highest point in the country is Mount Agou with 986 m, located in the south western corner of Togo in the the southern plateau region near the Ghanaian border, south east of Kpalimé.

Togo has a population of 6.2 million people from about 40 different ethnic groups (2010 census).

Largest city, chief port and national capital is Lomé in the south of the country. Spoken languages are French (official) and a variety of West African languages.

Transportation: Togo is served by Lomé-Tokoin Airport, it is Togo's primary international airport. The railway in the country, built in colonial times in the beginning of the 20th century, is since years out of service.



Map is showing Togo and the surrounding countries with international borders, region boundaries, the national capital Lomé, region capitals, major cities, main roads, railroads and airports.

The port in Lomè is a major transportation hub.



You are free to use this map for educational purposes, please refer to the Nations Online Project.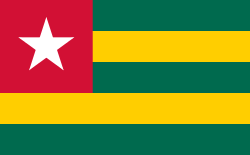 Bookmark/share this page


One World - Nations Online
All Countries of the World