Map is showing Central African Republic and the surrounding countries with international borders, provinces boundaries, the national capital Bangui, provinces capitals, major cities, main roads, railroads and airports.


Border Countries: Cameroon, Chad, Democratic Republic of the Congo, Republic of the Congo, Sudan


Administrative Divisions of the Central African Republic
The Central African Republic is divided into 14 administrative prefectures (préfectures), 2 economic prefectures (préfectures economiques) and one autonomous commune.

The prefectures are (prefecture capital in brackets):
Bamingui-Bangoran (Ndélé), Basse-Kotto (Mobaye), Haute-Kotto (Bria), Haut-Mbomou (Obo), Kémo (Sibut), Lobaye (Mbaïki), Mambéré-Kadéï (), Mbomou (), Nana-Mambéré (Bouar), Ombella-M'Poko (Bimbo), Ouaka (Bambari), Ouham (Bossangoa), Ouham-Pendé (Bozoum), Vakaga (Birao)

the two economic prefectures are Nana-Grébizi (Kaga Bandoro) and Sangha-Mbaéré (Nola); the autonomous commune is Bangui.



You are free to use this map for educational purposes, please refer to the Nations Online Project.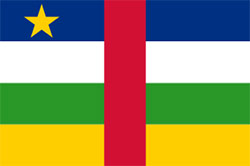 Bookmark/share this page


One World - Nations Online
All Countries of the World