Map is showing Burundi, a small landlocked country in Eastern Africa at Lake Tanganyika. With an area of 27,834 km², it is somewhat smaller than half the size of Croatia, or slightly smaller than the U.S. state of Maryland. Burundi is bordered by the Democratic Republic of the Congo, Rwanda, and Tanzania.

Large parts of Burundi's landscape are mountainous with elevations between 770 m and up to 2,670 m, the terrain is dropping to a flat plateau in east. Highest point is Mount Heha (2,670 m) within the Burundi Highlands mountain range.

The country has a population of 10.75 million people (2011). Spoken languages are French (official) and Kirundi.

Administrative Divisions of Burundi.
Burundi is divided into 17 provinces (the provinces are named after their capital):
Bubanza, Bujumbura Mairie (City of Bujumbura), Bujumbura Rural, Bururi, Cankuzo, Cibitoke, Gitega, Karuzi, Kayanza, Kirundo, Makamba, Muramvya, Muyinga, Mwaro, Ngozi, Rutana, and Ruyigi.

Capitals and cities/towns depicted on the map:
Bubanza, Buhiga, Bujumbura, Bukirasazi, Bururi, Cankuzo, Cibitoke, Gatumba, Gitega, Kanyosha, Karuzi, Kayanza, Kirundo, Mabanda, Makamba, Matana, Muramvya, Musada, Mutambu, Mutangaro, Muyinga, Mwaro, Ngozi, Nyanza-Lac, Rumonge, Rusiba, Rutana, and Ruyiga.

Map is showing Burundi and the surrounding countries with international borders, provinces boundaries, the national capital, provinces capitals, major cities, main roads, railroads and airports.




You are free to use this map for educational purposes, please refer to the Nations Online Project.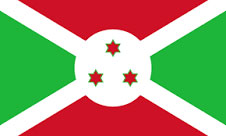 Bookmark/share this page


One World - Nations Online
countries of the world