The Republic of the Congo is also known as Congo-Brazzaville or just Congo. The country is located in Central Africa (Equatorial Africa) with a short (170 km) coastline at the South Atlantic Ocean. It is bordered by Angola (enclave of Cabinda), Cameroon, Central African Republic, Democratic Republic of the Congo (Kinshasa), and Gabon.

With an area of 342,000 km² Congo is slightly smaller than Germany, or as well slightly smaller than the U.S. state of Montana.

Congo has a population of 4.5 million people, capital city is Brazzaville, located at the Congo River, just opposite of Kinshasa, the capital of the Democratic Republic of the Congo.

Map is showing the Republic of the Congo and the surrounding countries with international borders, provinces boundaries, the national capital Brazzaville, provinces capitals, major cities, main roads, railroads and airports.




You are free to use this map for educational purposes, please refer to the Nations Online Project.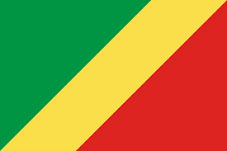 Bookmark/share this page


One World - Nations Online
all countries of africa