About Tangier
Satellite view is showing Tangier, also known as the White City, is an important seaport on the northern coast of

Morocco, located near the western entrance of the Strait of Gibraltar, the strait that connects the Atlantic Ocean with the Mediterranean Sea.

Tangier is an ancient city, in the early 5th century BC the bay on the Strait of Gibraltar was one of the many Phoenician trading posts in the Mediterranean, it became a permanent Carthaginian settlement until 81 BC the port (then known as Tingis) came under Roman control and later became the capital of the Roman province of Mauretania Tingitana.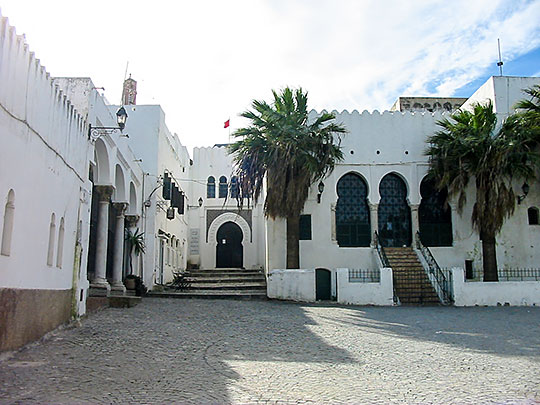 Image: Bpcorps

In the mid-19th century the city was the diplomatic center of Morocco, with a strong British political influence.
From 1923 to 1924 it was part of an internationally administered zone and was returned to international control following World War II, during which it was administered by Spain.

Today Tangier has a population of nearly 1 million people (in 2014).
Spoken languages are Darija (Moroccan Arabic), Tarifit (a Riff Berber language, colloquial: Tamazight), French is widely used, English and Spanish are generally understood in tourist areas.

Some points of interest in or near Tangier:

Grand Socco, the Big Square (Place du Grand 9 Avril 1947) in the medina area of central Tangier, transforms in the evening into a particularly colorful market; nearby are the former Forbes Museum of Tangier, and the Anglican Church of St. Andrew.
Dar el Makhzen, the former palace of Sultan Moulay Ismail is today home of the Museum of Moroccan Arts and Antiquities. Casabarata (giant flea market); Caves of Hercules (Early backpacker Hercules slept in these caves before attempting one of his 12 labors). Librairie des Colonnes (best bookshop in town).

The map shows a city map of Tangier with expressways, main roads and streets, and the location of Tangier-Boukhalef Airport (IATA code: TNG).

To find a location use the form below.

To find a location type: street or place, city, optional: state, country.


Local Time Casablanca:

Saturday-September-30 07:01

No UTC/GMT offset