About Casablanca

Satellite view is showing Casablanca, the country's chief port at the north west coast of

Morocco.

The city, then known as Anfa, was founded and settled by Amazigh (Berber) in the 10th century BC, it was used as a trading port by the Phoenicians, and later run for some times by the Romans. The port town was destroyed by the Portuguese in 1468, the Portuguese returned to the area in 1515, and built a new town called Casa Branca ("White House"), maybe because the site would have been a convenient watering stop for the new Portuguese India armadas, dispatched on an annual basis from Portugal to India. Anfa was abandoned in 1755 after a devastating earthquake.
The old Medina was fully rebuilt in 1757 by Mohammed ben Abdallah, then Sultan of Morocco.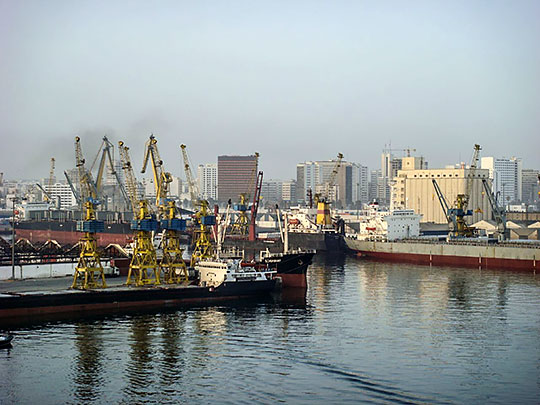 Image: David Lisbona

Today Casablanca is Moroccos largest city and the industrial, economic and financial center of the country. The Port of Casablanca is the largest port of North Africa and one of the largest artificial ports in the world. The city has a very mild Mediterranean climate with an Oceanic influence.

Casablanca has a population of almost 4.3 million inhabitants live in its urban area (Grand Casablanca; in 2014).
Spoken languages are Moroccan Arabic, Tamazight (a Berber language), French is widely used.

Some points of interest in Casablanca:

Hassan II Mosque (largest mosque in Morocco with the world's tallest minaret 210 m (689 ft));
Old Medina of Casablanca (maze that starts at Marrakesh gate, if you're lucky you find the old Portuguese fortress); Downtown Casablanca (Belvedere with a French colonial legacy); Marché Central and Le Petit Poucet (dining in style); The Corniche (nightclubs, restaurants and cafes); Shrine of Sidi Abdel Rahman (popular place to hang out on weekends); Octagon Square (modern city square).

The map shows a city map of Casablanca with expressways, main roads and streets, zoom out to find the location of Casablanca's Mohammed V International Airport (IATA code: CMN) about 30 km (19 mi) south of Casablanca.

To find a location use the form below.

To find a location type: street or place, city, optional: state, country.


Local Time Casablanca:

Sunday-October-1 04:08

No UTC/GMT offset