About Marrakesh
Satellite view is showing Marrakesh, the most important former imperial city in

Morocco, situated near the foothills of the Grand Atlas Mountains.
Marrakesh is the economic center and the capital of Marrakech-Tensift-Al Haouz. The city comprises an old fortified city (the Medina) and an adjacent modern city.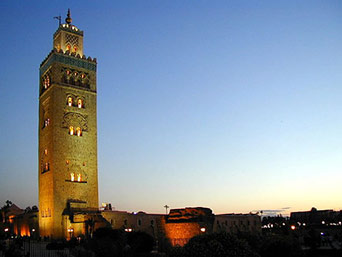 Image: Joao Maximo

The city has a population of about 1 million inhabitants.
Spoken languages are Moroccan Arabic, Tamazight (a Berber language), and French.

History (short version)
The site of many mosques, fountains, and a 14th-century palace, was founded in 1062 by Yusuf ibn-Tashfin as the African capital of the Almoravid dynasty. In 1147 it fell to the Almohads and passed under the control of the Marinids, whose main city was Fes.

Marrakesh was capital of Morocco for a second time from 1550 to 1660. It was taken by the French on 7 September 1912. The former palace of the sultan is now a museum of Moroccan art. Completed in 1195, the 220-ft minaret of the Koutoubia mosque dominates the city.

Just zoom in (+) to see Jemaa El Fna, the world-famous square south of the Medina quarter, with its many narrow and maze-like streets in the heart of Marrakesh. It is a UNESCO World Heritage site since 1985.

The map shows a city map of Marrakesh with expressways, main roads and streets, and the location of Marrakesh's Ménara International Airport (IATA code: RAK).

To find a location use the form below.

To find a location type: street or place, city, optional: state, country.


Local Time Marrakesh:

Friday-December-8 22:32

No UTC/GMT offset