About Bogotá

Satellite view is showing Bogotá, largest and most populous city and the national capital of

Colombia.

Bogotá is located in the center of the country in the eastern part of the Andes mountains. The city is one of the capitals with the highest elevation at 2,600 m (8,530 ft.).

Bogotá was originally called "Bacatá" - planted fields, it was founded by the Spanish in 1538 on the site of a pre-Columbian center of the Chibcha (Muisca) culture.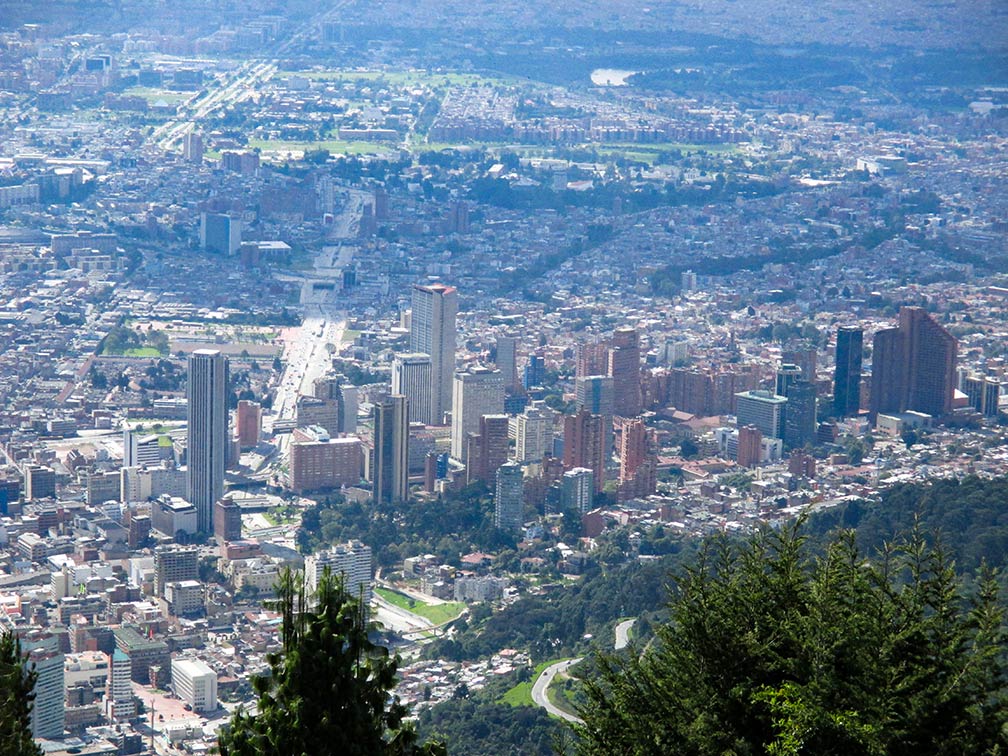 Image: Pedro Felipe

It is Colombia's main economic and industrial center. Until 2000 the city was officially called Santa Fé de Bogotá. The city has a population of about 7.9 million inhabitants (in 2015), more than 12 million people live in the metropolitan area. Spoken language is Spanish.
The city lies in a subtropical highland climate zone with average temperatures between 15 and 20° C.

Some Points of interest:
Capitolio Nacional (seat of both houses of Colombia's Congress), Bolívar Square (main square) with Casa de Nariño (residence of the President) and Lievano Palace (Mayor's office),
Quinta de Bolívar (Latin American Liberator Simón Bolívar's former residence),
Primary Cathedral of Bogotá, Colombian National Museum, Museo Botero (international art collections), Gold Museum (Pre Hispanic gold work), and Maloka Museum (interactive science),
Bogotá Botanical Garden, Guadalupe Hill and Monserrate (mountain).

University City of Bogotá (White City) is the flagship campus of the National University of Colombia.

The map shows a city map of Bogotá with expressways, main roads and streets, zoom out to find the location of El Dorado International Airport (IATA code: BOG) about 15 km (9.3 mi) northwest of Bogotá's city center.

To find a location use the form below.

To find a location type: street or place, city, optional: state, country.


Local Time Bogotá:

Thursday-December-7 10:08

UTC/GMT -5 hours