Searchable Map and Satellite View of Airports of India and surrounding countries using Google Earth Data.
Map is showing the Indian subcontinent with the location of India's international and important domestic airports. as well as major airports of surrounding countries in South Asia.
Namely the location of the international airports of Pakistan, Nepal, Tibet (PR China), Bhutan, Bangladesh, Myanmar, Thailand and Lao PDR.


To find another location or airport use the form below. To find an airport by its IATA code type: airport IATA code, like in this example: "airport DEL" (without quotes) it will show you the location of India's busiest airport in Delhi. (this search does not work for all airports).

1.
2.

Symbol for
1. International Airport
2. Domestic Airport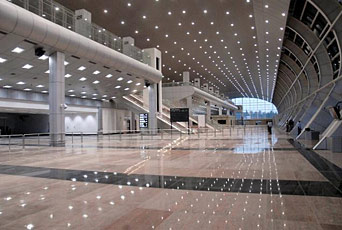 Trivandrum Airport located in Thiruvananthapuram.
Image: The Hindu