Togo (official name Togolese Republic) is a country in West Africa with a short coastline (just 56 km) on the Bight of Benin, which is part of the Gulf of Guinea (North Atlantic).
The country is bordered by Benin, Burkina Faso, and Ghana. In north the country reaches into the semi-arid West Sudanian Savanna belt, while the south has a tropical climate.

Map is showing Togo with surrounding countries, states borders, the national capital, provincial capitals, major cities and towns.

Administrative Divisions of Togo

Togo is divided into five regions, from north to south these are:

Savanes is the northernmost region, bordered by Ghana in west, Burkina Faso in north, the Atakora Department of Benin in east and Kara region in south. The center of commerc and trade is Dapaong, the region's capital.

Kara is located between Centrale Region and Savanes Region. Its capital city is Kara, with a population of about 100,000 inhabitants, it is a major market place in Northern Togo with an appropriate infrastructure. Niamtougou International Airport (IATA Code: LRL), more likely a regional airport, is located near the city. Coffee and cocoa are traditionally the major cash crops, and cotton cultivation increased rapidly since the 1990. Small and medium-sized farms produce most of the food crop.

Centrale in the middle of the Togo, is a sparsely populated agricultural region, its center and capital is Sokodé, the second largest city in the country with a population of around 113,000 inhabitants. Blitta, a town in Centrale is until now the terminus of Togo Railway system, that will run one day from Lomé, the capital city of Benin to Ouagadougou, capital of Burkina Faso.

Plateaux is after Maritime region the second most populated region, with Atakpamé as its capital, a city with 85,000 inhabitants, the regional commercial and industrial center for produce and cloth.

Maritime is the southernmost and most populous region in the country. Region capital and national capital is Lomé, chief port and administrative, commercial, and industrial center of Benin. 1.5 million people live in its metropolitan area. Other major cities in Maritime region are Tsévié and Aného.

Click on the map to enlarge for a detailed map of Togo.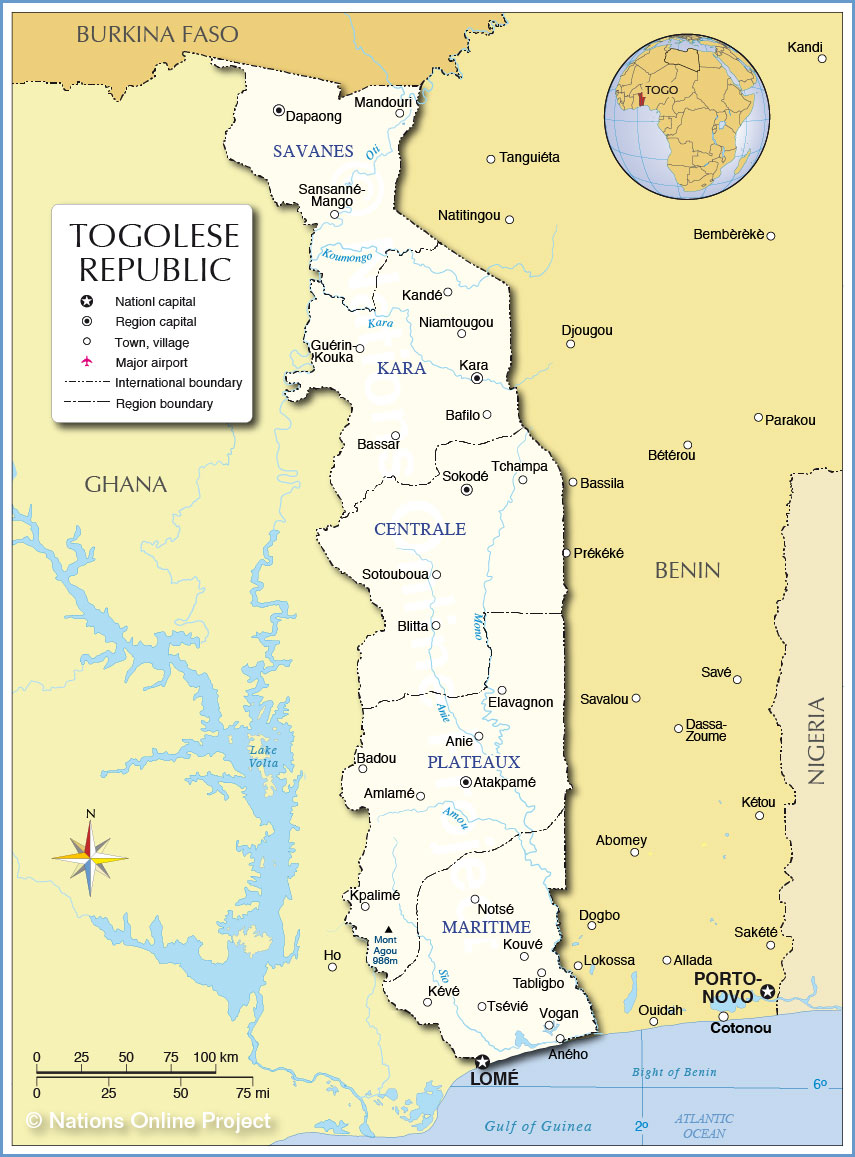 Administrative Map of Togo