The Netherlands is a country in western Europe bordered by the North Sea in north and west, it is bordered by Germany in east and Belgium in south. The country also shares maritime borders with France and the United Kingdom. The Netherlands are a part of the Kingdom of the Netherlands, actually one of its constituent countries, consisting of the twelve Dutch provinces in North-West Europe and three islands in the Caribbean: Aruba, Curaçao (and Bonaire), and Sint Maarten.

European Netherlands occupies an area of 41,543 km² making it just slightly larger than Switzerland (41,285 km²) or half the size of the U.S. state of South Carolina. Much of Netherlands in the west and north are low-lying with about 20% of its area below sea level. In east and south there are higher lands with minor hills. Located there is Vaalserberg ("Mount Vaals") with 323 m (1,059 ft) is the highest point in the European part of the Netherlands.
The three main rivers are Rhine, Maas (Meuse), and Scheldt.

The Netherlands has a population of 16,785,000 (est. May 2013); capital and largest city is Amsterdam; seat of government is in the city of The Hague (Den Haag).
Spoken language is Dutch (official), recognized regional languages are West Frisian (in Friesland), Papiamento (in Bonaire), and English (in Sint Eustatius and Saba).

Map is showing the European Netherlands and the surrounding countries with international borders, the constitutional capital Amsterdam, provinces capitals, major cities, main roads, railroads and airports.




You are free to use this map for educational purposes, please refer to the Nations Online Project.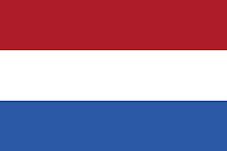 Bookmark/share this page


One World - Nations Online
countries of the world