About Iceland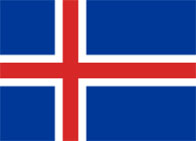 The map shows Iceland, a sparsely populated island country in the far northwest of Europe in the North Atlantic Ocean. Iceland is situated just south of the Arctic Circle at the northern end of the Mid-Atlantic Ridge.
The closest bodies of land are
Greenland
in the west (290 km (180 mi) from coast to coast) and the
Faroe Islands
in the southeast (470 km (290 mi)), an autonomous part of the
Kingdom of Denmark
north of
Scotland
,
UK
.
With an
area
of 103,000 km² the island nation is more than twice the size of
Denmark
, or about the same size as the US state of
Kentucky
.
Iceland is the largest volcanic island in the world. There are 30 active volcanic systems, of which 13 have erupted since the settlement of the island in 874 CE. The western part of the island sits on the North American Plate, which moves west, the eastern part on the Eurasian Plate, which moves east. The divergent tectonic activity of both plates causes the seabed to "tear open" and the resulting crack to be filled with magma (so-called seafloor spreading), which over time creates a submarine mountain range.
Only about 20 percent of Iceland is habitable; all urban centers and towns are on the coast. Iceland has a
population
of 357,000 (Dec 2018), making it one of the least densely populated countries in Europe. The capital and largest city is
Reykjavik
. Spoken
language
is Icelandic, one of the North Germanic languages.
Depicted on the map are cities, towns, and villages (see below), main roads, and
Reykjavík-Keflavík Airport
(
IATA code
: KEF), Iceland's international airport.
In 2010 Iceland's Eyjafjallajökull volcano erupted twice. The eruption in April 2010 caused massive disruption to air traffic across Northern and Western Europe.
See also: Map of the Icelandic glaciers and
Eyjafjallajökull glacier and volcano
.
Administrative Divisions of Iceland
Iceland is divided into eight regions, six constituencies, 23 counties, and 79 municipalities.
The eight regions are primarily used for statistical purposes.
The map shows the location of following Icelandic cities and towns:

Akranes, Akureyri, Blönduós, Bolungarvík, Borgarfjörður (Borgarfiordur), Borgarnes, Dalvík, Djúpivogur, Egilsstaðir, Grindavík, Hafnarfjörður, Höfn, Hólmavík, Húsavík, Hvammstangi, Hvolsvöllur, Ísafjörður (Ísafjördhur), Keflavík, Kópavogur, Mosfellsbær (Mosfellsbaer), Neskaupstaður (Neskaupstadhur), Njarðvík (Njardhvík), Ólafsfjörður (Olasfjordur), Ólafsvík, Raufarhöfn, REYKJAVÍK, Sauðárkrókur, Selfoss, Seyðisfjörður (Seydisfiordhur), Siglufjörður, Stykkishólmur, Þorlákshöfn (Thorlakshofn), Þórshöfn (Thorshofn), Vestmannaeyjar, Vík, and Vopnafjörður.