About the Comoros
Satellite view is showing the group of islands in the Mozambique Channel in the Indian Ocean, west of the northern tip of Madagascar.

The country officially consists of the four islands in the Comoros archipelago: Ngazidja (French: Grande Comore), Mwali (French: Mohéli), Nzwani (French: Anjouan), and Mahoré (French: Mayotte), and some smaller islands. But the Comoros have never administered the island of Mayotte, which is still administered by France as an overseas collectivity.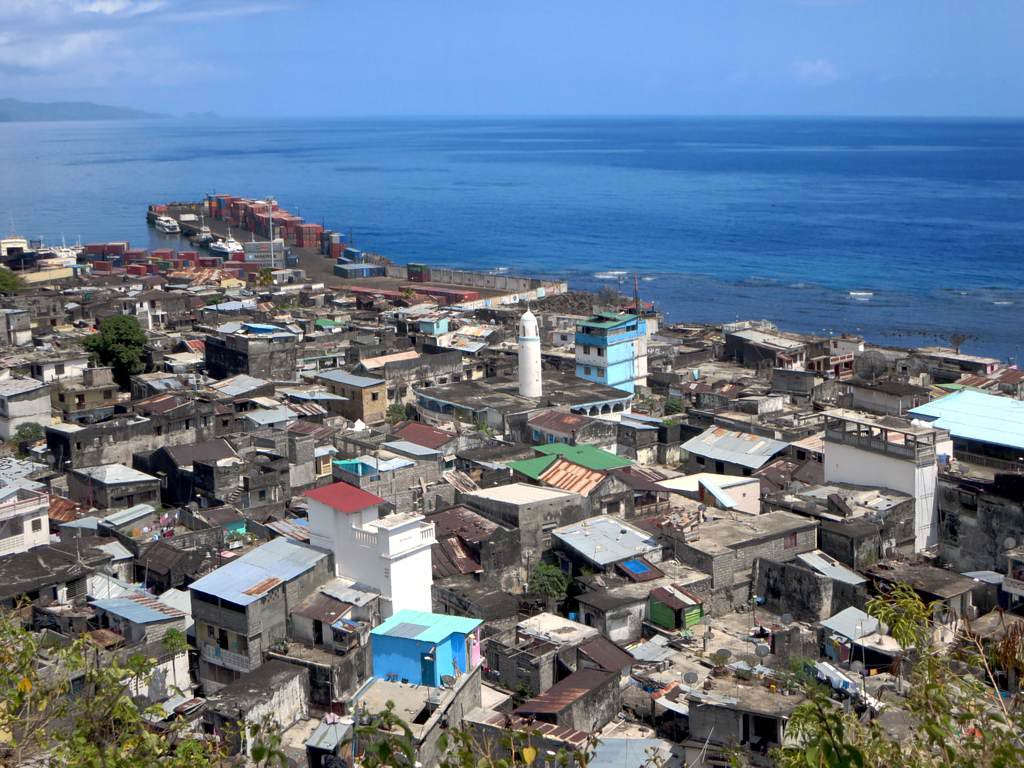 Image: David Stanley

The islands were first visited by the English at the end of the 16th century. At that time and for long afterward, Arab influence was dominant. In the mid 19th century they came under French protection until 1974 when all but one of the four major islands voted for independence.

Comoros' area (including Mayotte) is slightly smaller than Luxembourg or slightly smaller than the U.S. state of Rhode Island.
The Comoros have a population of 770,000 (in 2015), national capital is Moroni. Spoken languages are French (official), Arabic (official), and Comorian (Shikomor; a blend of Swahili and Arabic, it is the predominant language).

The map shows Comoros with cities and towns, main roads and streets, Hahaya Airport (IATA Code: HAH) is located 21 km (13 mi) north of Moroni and Ouani Airport (IATA Code: AJN) an airstrip located on Nzwani island.

The island of Maore (Mayotte) in Southeast, with its territorial capital Mamoudzou, is administered by France, but claimed by the Comoros.

Other countries in the region: Madagascar, Mauritius, Mozambique, Seychelles, Tanzania.

To find a location use the form below. To view just the map, click on the "Map" button.

To find a location type: street or place, city, optional: state, country.


Local Time Comoros:

Friday-January-21 11:27

East Africa Time (EAT) :: UTC/GMT +3 hours