Searchable Map and Satellite View of Bogotá using Google Earth Data
Satellite view is showing Bogotá, largest and most populous city and the national capital of

Colombia.
Bogotá is located in the center of the country in the eastern part of the Andes mountains and lies at an elevation of 2,600 m (8,530 ft). It is Colombia's main economic and industrial center. Until 2000 the city officially was called Santa Fé de Bogotá, it has a population of about 7.3 million inhabitants. Spoken language is Spanish.

The city originally called "Bacatá" - planted fields, was founded by the Spanish in 1538 on the site of a pre-Columbian center of the Chibcha (Muisca) culture.

The map shows a city map of Bogotá with expressways, main roads and streets, zoom out to find the location of El Dorado International Airport (IATA code: BOG) about 15 km (9.3 mi) northwest of Bogotá's city center.


To find a location use the form below. To view just the map, click on the "Map" button.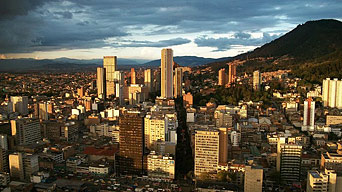 Bogota's Central business district seen from Avianca Tower.
Image: Pedro Felipe