Flag of Aruba

Background:

Aruba is a flat, riverless island in the Caribbean Sea, just a short distance north of the Venezuelan Peninsula Paraguaná, renowned for its white sand beaches. Aruba's tropical climate is moderated by constant trade winds from the Atlantic Ocean; the temperature is almost constant at about 27 degrees Celsius (81 degrees Fahrenheit).


related countries: Netherlands

close to: Colombia and Venezuela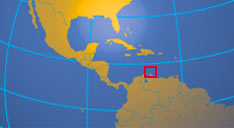 Official Name:
Aruba

ISO Country Code: aw

Time:
Local Time = UTC -4h
Actual Time:

Wed-Sept-28 09:38



Country Calling Code: +297

Capital City: Oranjestad

Other Cities: San Nicolaas (St. Nicolaas)

Government:
Type: Parliamentary Democracy
Dependency status: Autonomous territory of the Netherlands; full autonomy in internal affairs obtained in 1986; responsible for defense and foreign affairs is the Dutch Government .

Geography:
Location: Caribbean, island in the South Caribbean Sea, north of Venezuela.
Area: 180 km² (69 sq miles)
Terrain: Flat with a few hills.

Climate: Tropical marine.

People:
Nationality: Aruban(s), Dutch
Population: 101,000 (2010 census)
Ethnic Groups: mixed white/Caribbean Amerindian 80%.
Religions: Christian 90%, Hindu, Muslim.
Languages: Dutch (official), Papiamento (a Spanish, Portuguese, Dutch, English dialect), English (widely spoken), Spanish.
Literacy: 97%

Natural resources: Sun, sand, sea, surf.

Agriculture products: Aloes; livestock; fish.

Industries: Tourism, transshipment facilities, oil refining.

Exports partners: USA 79.9%, Netherlands 4.3%, Canada 3.7%

Imports partners: USA 55%, Netherlands 13.8%, Venezuela 3.5%

Currency: Aruban Guilder/Florin (AWG); U.S. Dollars and Euros are widely accepted.