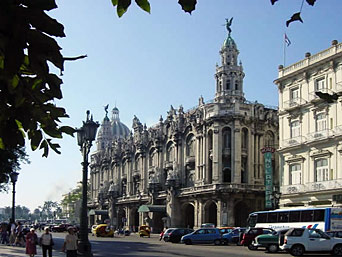 Gran Teatro de la Habana Garcia Lorca, the Great Theatre of Havana,
home of the National Ballet of Cuba.
Searchable map and satellite view of Habana using Google Earth Data
Satellite view is showing Havana, largest city, major port and the national capital of

Cuba, situated on the island's northern coast of the Straits of Florida, just east of the mouth of the Almendares River. The city is one of Cuba's 14 provinces.
Havana was founded in 1515 by Diego Velázquez de Cuéllar, and is by now the leading commercial and cultural center of Cuba. Havana is a living time capsule of times past like no other city, it is most famous for its unique Neoclassical architecture, its performing arts, its paladares (small, family-run restaurants), its vintage American cars, its rich nightlife, and of course its world famous Tabaquerías.

Havana has a city population of more than 2.3 million inhabitants, and more than 3 million people live in its metropolitan area.
Official language is Spanish.

The Map shows a city map of Havana with expressways, main roads and streets, José Martí International Airport (IATA code: HAV) is situated in southwest of the city center.

Just zoom in (+) to see El Capitolio, or National Capitol Building in Havana, the former seat of government in Cuba until after the Cuban Revolution in 1959.

To find a location use the form below.

To find a location type: street or place, city, optional: state, country.


Local Time Havana:

Thursday-July-2 19:07

Time zone: Cuba Standard Time (CST) UTC/GMT -5 hours
Cuba Daylight Time (CDT) from mid March till end of October UTC/GMT -4 hours