Searchable Map and Satellite View of La Paz using Google Earth Data
Satellite view is showing La Paz,

Bolivia's administrative capital city at Choqueyapu river. The city is located in the northwestern part of the country, near the border with Peru.
Situated in the Andes at an altitude of 3,660 m (12,000 ft), makes it the highest capital city in the world.

Nuestra Señora de La Paz (the city's official Spanish name) has a population of about 1 million inhabitants (2001 census). Official language is Spanish.


The map shows a city map of La Paz with expressways, main roads and streets, and the location of El Alto International Airport (IATA code: LPB).

To find a location use the form below.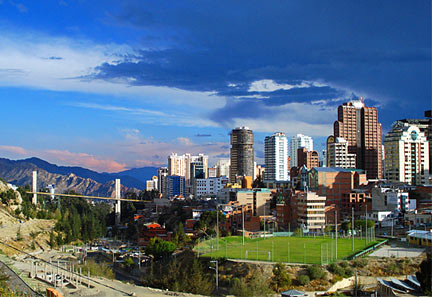 View of La Paz from Avenida del Ejército with the Puente de Las Americas (Bridge of the Americas) in background.
Image: Donvittore