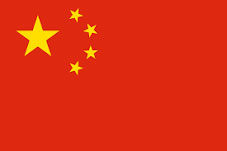 Map showing China and the surrounding countries with international borders, as well as Chinese self-governed municipalities, autonomous regions, provinces and Special Administrative Regions (S.A.R), provincial boundaries, the national capital, province capitals, and major cities.

Border Countries:
Afghanistan, Bhutan, India, Kazakhstan, North Korea, Kyrgyzstan, Laos, Mongolia, Myanmar (Burma), Nepal, Pakistan, Russia, Tajikistan, Vietnam, China shares maritime borders with Japan, South Korea, the Philippines, and Taiwan.

Administrative Divisions

The People's Republic of China is divided into 33 administrative regions, there are 22 provinces, five autonomous regions, four municipalities, and two special administrative regions (SAR).
Additionally, China claims sovereignty over the territory administered by Taiwan (Republic of China ), claiming most of it as its Taiwan Province.





You are free to use this map for educational purposes, please refer to the Nations Online Project.



Bookmark/share this page



List of China's administrative divisions (Capitals in parentheses):

Municipalities (Zhixia Shi)
北京 Beijing, 重庆 Chongqing, 上海 Shanghai, and 天津 Tianjin.
These are self-governing districts under the direct jurisdiction of the central government.

Autonomous Regions (Zizhiqu)
An administrative region where the minority (Chinese Han) is the majority in the local government and congress.

广西 Guangxi (Nanning), 内蒙古 Nei Menggu (Inner Mongolia, capital: Hohhot), 宁夏 Ningxia (Yinchuan), 西藏 Xizang (Tibet, capital: Lhasa), 新疆 Xinjiang Uyghur Autonomous Region (Ürümqi)


Special Administrative Regions (Tebie Xingzhengqu, S.A.R.):
香港 Hong Kong, and 澳门 Macau
This Special Administrative Regions pursue the policy of "One Country, Two Systems".

Provinces (Sheng): 安徽 Anhui (Hefei), 福建 Fujian (Fuzhou), 甘肃 Gansu (Lanzhou), 广东 Guangdong (Guangzhou), 贵州 Guizhou (Guiyang), 海南 Hainan (Haikou), 河北 Hebei (Shijiazhuang), 黑龙江 Heilongjiang (Harbin), 河南 Henan (Zhengzhou), 湖北 Hubei (Wuhan), 湖南 Hunan (Changsha), 江苏 Jiangsu (Nanjing), 江西 Jiangxi (Nanchang), 吉林 Jilin (Changchun), 辽宁 Liaoning (Shenyang), 青海 Qinghai (Xining), 陕西 Shaangxi (Xi'an), 山东 Shandong (Jinan), 山西 Shangxi (Taiyuan), 四川 Sichuan (Chengdu), 云南 Yunnan (Kunming), 浙江 Zhejiang (Hangzhou)



One World - Nations Online
all countries of the world