About Guangzhou
Satellite view is showing Guangzhou, third largest Chinese city behind Shanghai and Beijing, it is the capital of Guangdong province of the

People's Republic of China.
It is an inland port city located in the Pearl River delta in south-central of mainland China.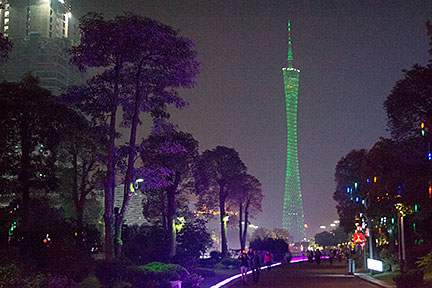 image: nationsonline.org

The city, was formerley known as Canton, it is the leading industrial and commercial center of southern China.
Guangzhou has a population of more than 12 million people in its metropolitan area. The city is part of one of the most populous metropolitan agglomerations on Earth, the Pearl River Delta Mega City with a population of more than 50 million people.

When you are in Guangzhou, there is a difference compared with other Asian cities, something is missing, and you can not quite explain what, until you realize: no motorbikes. The permanent noise of hundreds of motorcycles on the street is just not there. Adding up to the strange white noise of the city is the amount of hybrid cars running on electric drive mode, silent.

The page shows a city map of Guangzhou with expressways, main roads and streets, zoom out to find Guangzhou Baiyun International Airport (IATA code: CAN) to the north.

Just zoom in (+) to see Canton Tower, a 600m, (1,969 ft) tall multi-purpose observation tower. For some time it was the tallest tower in the world, in 2011 Tokyo's Skytree surpassed Guangzhou's Tower in height. (The satellite image is by now (Jan 2016) not congruent with the roadmap)

To find a location use the form below.

To find a location type: street or place, city, optional: state, country.


Local Time Guangzhou:

Sunday-October-1 17:50

Time zone: China Standard Time (CST) UTC/GMT +8 hours