About Chongqing (Chungking)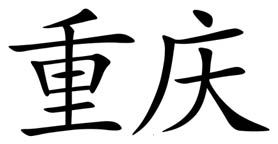 Satellite view is showing Chongqing, a heavily industrialized city in the in south-central part of

China, located at the estuary of Jialing River where it joins the Yangtze River.
Chongqing's port is the biggest inland river port in western China. The city is the commercial and trade center of the region and the hub connecting China's vast west with the eastern coast.

Chongqing has a fast growing population of more than 28.8 million people (2011), the urban area population of Chongqing is about 9.7 million.
The city is de facto a Chinese province with the status of a provincial-level municipality, the highest level classificiation for cities in P.R. China.
There are four provincial-level municipalities in P.R. China, beside Chongqing these are the cities Beijing, Shanghai and Tianjin.

Chongqing is in Frommer's list of Top Destinations 2012. The city is described as: "The hilly city of Chongqing is earning a reputation as a destination in its own right. Located at the confluence of the Yangzi and Jialing Rivers, and often cited as the world's biggest metropolis, this 30 million strong municipality was separated from Sichuan in 1997, and now offers a captivating glimpse of modern China -- the good, the gritty and the glamorous."

The Map shows a city map of Chongqing with expressways, main roads and streets, Chongqing Jiangbei International Airport(IATA Code: CKG) is located 21km (13 mi) north of the city-center. To view the map, click on the "Map" button.

To find a location use the form below.

To find a location type: street or place, city, optional: state, country.


Local Time Chongqing:

Saturday-December-2 10:48

Time zone: China Standard Time (CST) UTC/GMT +8 hours