Satellite view is showing the North African country bordering the Mediterranean Sea to the North and the Red Sea in East.

Countries with international borders to Egypt are Palestine (Gaza Strip), Israel, Libya, and Sudan.

The Arab Republic of Egypt (its official name) occupies an area of 1 million km², that's almost twice the size of France or more than twice the size of the U.S. State of California.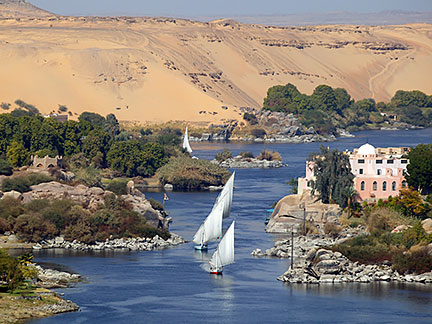 The population of Egypt is concentrated predominantly along the fertile valley of the Nile River.
All cities of the country, with the exception of those near the coast, lie along those parts of the Nile valley north of Aswan, because the rest of the country is largely desert.

Egypt has a population of of about 82 million people (2012). Capital city of Egypt is

Cairo. Spoken language are modern Standard Arabic, colloquial language is the Egyptian-Arabic dialect.

Modern Egypt became independent in 1922. From 1958 to 1961 Egypt was united with Syria as the United Arab Republic.

The map shows Egypt with cities, towns, expressways, main roads and streets. Clearly visible is the north-flowing river Nile, regarded as the longest river in the world.

To find a location use the form below. To view just the map, click on the "Map" button.

To find a location type: street or place, city, optional: state, country.


Local Time Egypt:

Monday-August-20 11:33

Standard time zone is Eastern European Time (EET): UTC/GMT +2 hours.
Egypt does not observe Daylight Saving Time (DST) since 2011.