Searchable Map and Satellite View of Sharm el-Sheikh using Google Earth Data
Satellite View is showing Sharm el-Sheikh, the resort town on the Red Sea in

Egypt, it is located at the southern tip of the Sinai Peninsula, on the coast of the Red Sea.

Sharm El-Sheikh has become one of the most popular holiday destinations in Egypt, because of its natural resources, a year-round favorable climate, long stretches of natural beaches, and stunning underwater sceneries in warm waters.
Visitors can expect a modern nightlife that happens in and around restaurants, casinos, discos, and nightclubs. Sharm offers all the amenities of a tourist center including golf courses, shopping malls, health facilities, and a nearby national park.

Sharm has a population of about 35,000 people. Official language is Arabic, but like in any tourist-spot, many other languages are spoken (after a fashion).

In 2010 Sharm el-Sheikh lost some of its reputation as a save Scuba diving paradise because of several shark attacks on tourists.

The Map shows a city map of Sharm el-Sheikh with expressways, main roads, and streets, as well as the location of Sharm el-Sheikh International Airport (IATA code: SSH).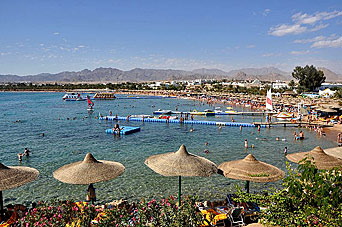 Sharm el-Sheikh, Naama-Bay
Image: Marc Ryckaert