About Istanbul

Satellite view is showing Istanbul, the largest city, a seaport and the cultural and financial center of

Turkey. The city is located in the northwest of the country at the Bosporus (or Istanbul) strait, which connects the Black Sea with the Marmara Sea.
Istanbul is ranked as an Alpha World City, according to GaWC.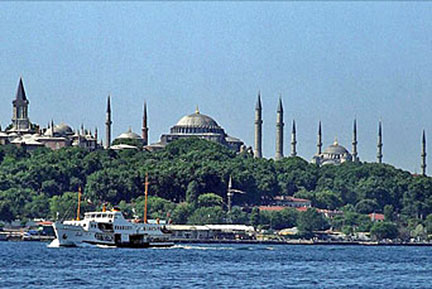 Around 660 BC, Greek settlers from West Attica founded Byzantium at the Golden Horn on the European side of the Bosporus.
In 73 AD Byzantium became a part of the Roman Empire. In 324 AD Constantine the Great became the emperor of the Roman Empire and he had plans to replace Byzantium for the new imperial capital of the empire. Constantine essentially rebuilt the city and called it Nova Roma (New Rome). It became the largest and wealthiest city in Europe for the next nine centuries, known as Constantinople.
In 1453 the Ottomans conquered the city after a month-long siege.
The city became the center of Ottoman power and its capital from 1453 until 1923.

Since the 1950s the population of the city has increased tenfold, about 14 million people live today in Istanbul. Official language is Turkish.

Istanbul is the only city in the world that lies in two continents. The only sea route between the Black Sea and the Mediterranean goes straight through the city, making its location really advantageous from a strategic point of view.

Just zoom in (+) to see Ayasofya (Hagia Sophia) and Sultanahmet Mosque.

The Map shows a city map of Istanbul with expressways, main roads and streets, zoom out to find the location of Atatürk International Airport (IATA Code: IST) which is located in west, and Sabiha Gökçen International Airport (IATA Code: SAW) 45 km (28 mi) by road, southeast of central Istanbul in the Asian part of the city.

To find a location use the form below. To view just the map, click on the "Map" button.

To find a location type: street or place, city, optional: state, country.


Local Time Istanbul:

Wednsday-June-29 12:10

Standard time zone: Eastern European Time (EET) UTC/GMT +2 hours
Daylight saving time in use from end of March until end of October, time zone offset: UTC/GMT +3 hours