About the City of Cairo
Satellite View is showing Cairo, the national capital of

Egypt, it is the largest city in the Arab World and the center of the largest metropolitan area in whole Africa.
Cairo is situated at Nile river in northeast of the country.

The city was established in the tenth century on the remains of former capitals and has long been a center of political power and cultural life. Cairo is nicknamed "The City of a Thousand Minarets" because of the predominance of Islamic architecture. The City is home to Al-Azhar University an institution of higher learning (founded around 970), it is the world's second oldest surviving degree granting university.

Located in Cairo is the oldest, largest and most famous film and music industries in the Arab World.

The city has a population of almost 7 million inhabitants, about 19 million people live in its metropolitan area. Official language is Arabic.

Just zoom in (+) to see Tahrir (liberation) Square, the focal point of the 2011 Egyptian uprise against president Hosni Mubarak.
Have a look at the Pyramids in south west of Cairo.

The Map shows a city map of Cairo with expressways, main roads and streets, zoom out to (-) find Cairo International Airport (IATA code: CAI) located in northeast.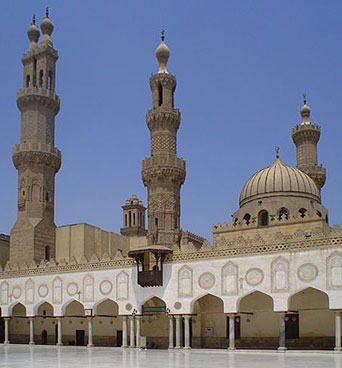 Inside Al-Azhar Mosque, Cairo. The mosque is associated with Azhar University, the chief center of Arabic literature.


Bookmark/share this page








To find a location type: street or place, city, optional: state, country.


Local Time Egypt:

Wednsday-August-5 15:26

Standard time zone is Eastern European Time (EET): UTC/GMT +2 hours
Egypt does not observe Daylight Saving Time (DST) since 2011