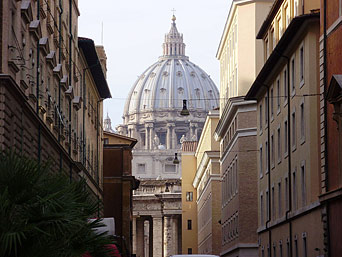 View of the dome of St. Peter's Basilica dome.
Image: Enrique Cornejo
Satellite View and Map of Vatican City / Holy See using Google Earth Data
Satellite view is showing the Vatican City / Holy See officially the State of the Vatican City (Italian: Stato della Città del Vaticano), situated within the City of Rome, Italy.
It covers an area of 109 acres (44 hectares) around St. Peter's Basilica and the palace of the Vatican.

Having been suspended after the incorporation of the former Papal States into Italy in 1870, the temporal power of the pope was restored by the Lateran Treaty of 1929.

The sovereign city-state hosts the central authority of the Roman Catholic Church, known as the Holy See and is the residence of the pope. The independent papal state has a population of about 1000 people, including its security service the Pontifical Swiss Guard.

In the basic setting of the map you see Vatican City, with main roads .A description of the various buildings you will find on the annotated satellite view and map of the Basilica of Saint Peter.

To find a location use the form below.