About Havana

Satellite view is showing Havana, largest city, major port and the national capital of

Cuba. The city is situated on the island's northern coast of the Straits of Florida, just east of the mouth of the Almendares River. The city is one of Cuba's 14 provinces.

Havana was founded c. 1515 by Diego Velázquez de Cuéllar as San Cristóbal de la Habana, it was moved to the present site in 1519. Treasure galleons gathered in Havana bay for their return to Spain, becoming prey for English, Dutch, and French pirates. The city was frequently sacked by these pirates during the 16th century, prompting Philip II of Spain to increase the city's fortification. In 1592, King Philip granted Havana the title of City, officially designated as "Key to the New World and Rampart of the West Indies" by the Spanish Crown.

Today Havana is the leading commercial and cultural center of Cuba, despite communist shortcoming. Havana is a living time capsule of times past like no other city, it is most famous for its unique Neoclassical architecture, its performing arts, its paladares (small, family-run restaurants), its vintage American cars, its rich nightlife, and of course its world famous Tabaquerías.

Havana has a city population of more than 2.1 million inhabitants (in 2012), and more than 3 million people live in the metropolitan area. Official language is Spanish.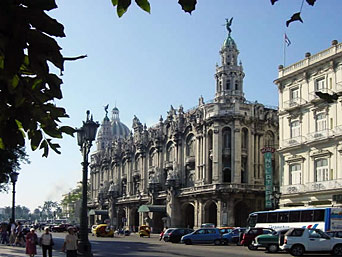 Points of interest are: Old Havana (Old Havana and its Fortifications

is a UNESCO World Heritage Site), Malecón (famous seafront), Morro Castle (fortress), the National Museum of Fine Arts, Museum of the Revolution, Gran Teatro de La Habana (home of the Cuban National Ballet), El Capitolio (former seat of government in Cuba), Castillo de la Real Fuerza (oldest stone fort in the Americas), La Cabaña (18th-century fortress complex), Finca Vigía (Hemingway's residence, now a museum), Havana Cathedral, Hotel Inglaterra (oldest hotel in Cuba), Iglesia de Jesús de Miramar (second largest church in Cuba).

The Map shows a city map of Havana with expressways, main roads and streets, zoom out to find the location of José Martí International Airport (IATA code: HAV) 33 km (20 mi) by road (via Carretera Central) southwest of the city.

Just zoom in (+) to see El Capitolio, or National Capitol Building in Havana, the former seat of government in Cuba until after the Cuban Revolution in 1959.

To find a location use the form below.

To find a location type: street or place, city, optional: state, country.


Local Time Havana:

Sunday-October-1 14:07

Time zone: Cuba Standard Time (CST) UTC/GMT -5 hours
Cuba Daylight Time (CDT) from mid March till end of October UTC/GMT -4 hours