About Santo Domingo

Satellite view is showing Santo Domingo, chief port, largest city and capital of the

Dominican Republic, a Caribbean country located on the island of Hispaniola.

Santo Domingo is situated on the south coast of the island at the estuary of the Ozama River.

It is the oldest continuously inhabited settlement in the Western Hemisphere established by Europeans, founded between 1496 and 1498 by Bartholomew Columbus, the younger brother of Christopher Columbus. It was the first seat of the Spanish colonial rule, from here the Spanish started to colonize the New World. Santo Domingo, the City of « firsts », the site of the first European style institutions in the Americas: first cathedral (1521), first university (1538), castle, monastery (1508), and fortress (1505) in the New World. The Colonial City of Santo Domingo

is now a UNESCO World Heritage Site.

Today the city has a population of about 1 million inhabitants, 3.7 million people are living in the metropolitan area, making Santo Domingo the most populous city in the Caribbean. It is the political, commercial, cultural, financial, and industrial center of the Dominican Republic. Spoken language is Spanish.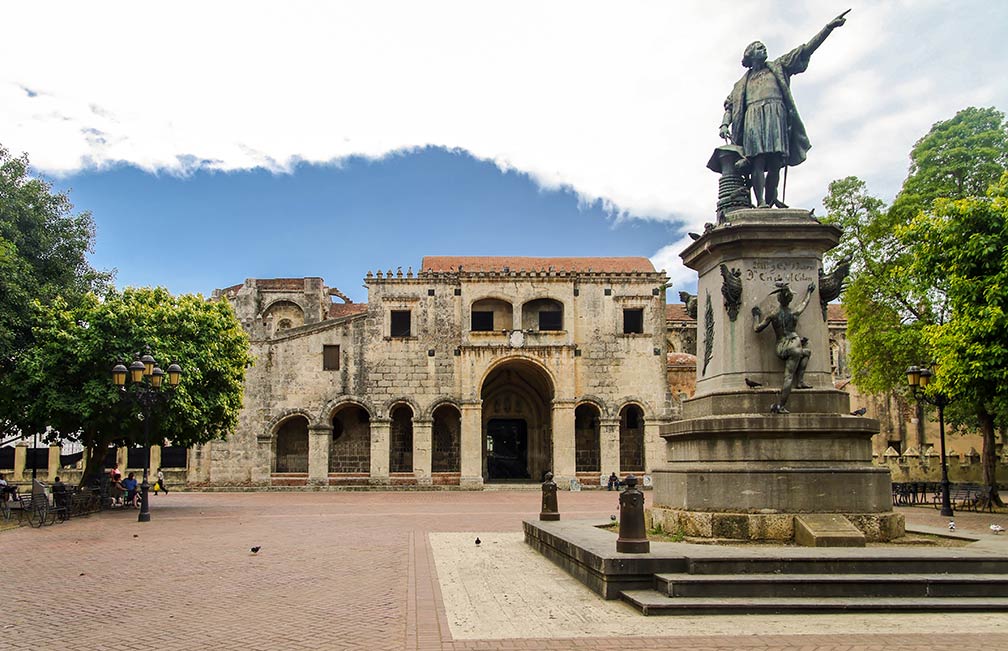 Image: Jean-Marc Astesana

Points of interest: Zona Colonial (Old Town), Alcázar de Colón (palace), Parque Colón (open space with a statue of Columbus), Ozama Fortress (16th-century castle), Basilica Cathedral of Santa María la Menor (Catedral Primada de América, completed in 1540), Monasterio de San Francisco (Franciscan monastery ruin), Museo de las Casas Reales (it houses the governor's office and the Royal Court), Independence Park with Puerta del Conde (The Count's Gate), National Palace (the neoclassical style palace houses the offices of the Presidency and Vice Presidency), National Botanical Garden (botanical garden), Museo Bellapart (art museum), Los Tres Ojos (limestone cave located in the Mirador del Este park), and Larimar Museum and Amber World Museum (semi precious gems).
Santo Domingo's nightlife takes place at Zona Colonia, Ocean boardwalk Malecon and Avenida Venezuela.

Just zoom in to see the National Palace, not far to the right at Ozama River is the Zona Colonial , the old town of Santo Domingo.

The map shows a city map of Santo Domingo with expressways, main roads and streets, and the location of the domestic airport La Isabela International Airport (IATA code: JBQ), zoom out to find the location of Las Américas International Airport (IATA code: SDQ), 34.5 km (21 mi) by road (via Route 3) east of the city.

To find a location use the form below.

To find a location type: street or place, city, optional: state, country.


Local Time Dominican Republic:

Thursday-June-1 09:48

UTC/GMT -4 hours