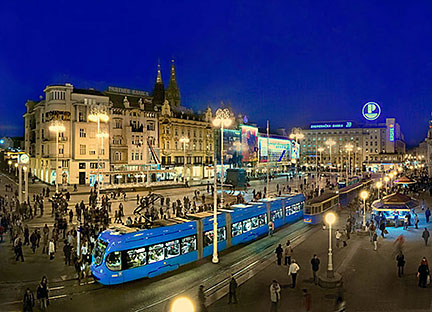 Zagreb Jelacicplace.
Image: © Miljenko Hegedic
Satellite View of Zagreb using Google Earth Data
Satellite view is showing Zagreb, largest city and the national capital of

Croatia. The city is located south of Medvednica mountain in the north western part of Croatia at the Sava river.

Zagreb is the cultural, scientific, economic, political and administrative center of the country with a population of about 800,000 inhabitants, more than 1.2 million people live in its urban area. Spoken language is Croatian.
Zagreb is seat of the University of Zagreb, the oldest Croatian university, founded in 1669.

The Map shows a city map of Zagreb with expressways, main roads and streets, Pleso Airport (IATA code: ZAG) situated 20 km (12 mi) southeast of Zagreb in the suburb of Pleso is the primary international airport in Croatia.

To find a location use the form below.