State flag of Serbia

Background:
Serbia, formerly the political and cultural center of Yugoslavia, is today a landlocked country in the central part of the Balkan Peninsula in Central Southeastern Europe. The country is the northern remain of the former State Union of Serbia and Montenegro.
In 2006 Montenegro voted, after a referendum in favor of independence, to leave the State Union. So Serbia has been obliged to officially proclaim its independence on 5 June 2006, as the successor state to the State Union of Serbia and Montenegro.


border countries: Albania, Bosnia and Herzegovina, Bulgaria, Croatia, Hungary, Macedonia, Rep. of, Montenegro, Romania

related countries: Germany, Russia, Slovenia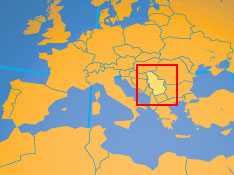 Official Name:
Republika Srbija
short form: Srbija
int'l long form: Republic of Serbia
int'l short form: Serbia
former: People's Republic of Serbia, Socialist Republic of Serbia, part of: State Union of Serbia and Montenegro (until 2006)

ISO Country Code: rs

Actual Time:

Sun-Oct-23 13:57


Local Time = UTC +1h
Daylight Saving Time (DST) March - October (UTC +2)

Country Calling Code: +381

Capital Cities: Belgrade (Beograd)

Other Cities: Pancevo, Novi Pazar, Uzice, Novi Sad, Subotica, Bor, Nis.

Government:
Type: Republic.
Constitution: Adopted 27 April 1992.
Independence: 5 June 2006 (from Serbia and Montenegro)
Montenegro's declaration of independence on 3 June 2006, the parliament of Serbia declared that it was the successor state to the union of Serbia and Montenegro, rendering the two republics independent and sovereign countries.
11 April 1992 (Federal Republic of Yugoslavia (F.R.Y.)
4 February 2003, the F.R.Y. parliament adopted a new Constitutional Charter establishing the state union of Serbia and Montenegro.

Geography:
Location: Landlocked country in the central part of the Balkan Peninsula between Macedonia and Hungary in Southeastern Europe.
Area: 77,474 km² (29,912 sq. mi.); figures does not include Kosovo.
Terrain: Varied; rich fertile plains in the north; limestone ranges and basins in the east; mountains and hills in the southeast.

Climate: Continental, with a gradual transition between the four seasons (worm summers, with temperatures up to 30°C and cool, snowy winters, with temperatures from - 5°C to 10°C).

People:
Nationality: : Noun--Serb(s); adjective--Serbian.
Population: 7.1 million (2011)
Ethnic Groups: Serbs (66%), 37 other nationalities: (Albanians 17%, Montenegrin 5%, Hungarians 3,5 %, followed by Romanians, Croats, Bulgarians and others)
Religions: Main religion is Christian Ortodox 65%, Muslim 19%, Roman Catholic 4%, Protestant 1%, other.
Languages: Serbian (official, official alphabet is Cyrillic as well as Latin); Romanian, Hungarian, Slovak, and Croatian (all official in Vojvodina province); Albanian (Shqip, official in Kosovo)
Literacy: 96%

Natural resources: Oil, gas, coal, iron ore, copper, lead, zinc, antimony, chromite, nickel, gold, silver, magnesium, pyrite, limestone, marble, salt, arable land.

Agriculture products: Wheat, maize, sugar beets, sunflower, beef, pork, milk.

Industries: Sugar, agricultural machinery, electrical and communication equipment, paper and pulp, lead, transportation equipment.

Exports partners: Italy 28.9%, Germany 16.6%, Greece 7.1%, Austria 7%, France 4.9%, Slovenia 4.1% (2004)

Imports partners: Germany 18.5%, Italy 16.4%, Austria 8.3%, Slovenia 6.7%, Bulgaria 4.7%, France 4.5%, Netherlands 4.1% (2004)

Currency: New Yugoslav Dinar (YUM);
note - in Kosovo both the Euro and the Yugoslav dinar are legal.

Source: www.serbia-tourism.org and other.