Flag of Macedonia

Background:
The Republic of Macedonia, formerly a part of Yugoslavia from which it declared independence in 1991, is situated in the central part of the Balkan Peninsula (Southeastern Europe). The country is characterized by large and high mountain massifs giving way to extensive, flat valleys and plains.

International recognition of The Former Yugoslav Republic of Macedonia's (FYROM) independence from Yugoslavia was delayed by Greece's objection to the new state's use of what it considered a Hellenic name and symbol.
Greece finally lifted its trade blockade in 1995, and the two countries agreed to normalize relations, despite continued disagreement over FYROM's use of "Macedonia." FYROM's large Albanian minority and the de facto independence of neighboring Kosovo continue to be sources of ethnic tension.


border countries: Albania, Bulgaria, Greece, Serbia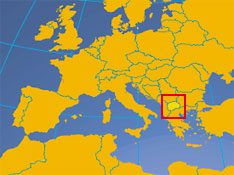 Official Name:
Republika Makedonija
Former Yugoslav Republic of Macedonia (abbrev.; FYROM)
or Republic of Macedonia

ISO Country Code: mk

Time:
Local Time = UTC +1h (in summer +2h)
Actual Time:

Sun-Jan-22 15:07



Country Calling Code: +389

Capital City: Skopje (pop. 500 000)

Other Cities: Bitola, Gostivar, Kumanovo, Struga, Tetovo.

Government:
Type: Parliamentary democracy.
Constitution: Adopted 17 November 1991;
Last Amended 6 January 1992.
Independence: 8 September 1991 (from Yugoslavia).

Geography:
Location: a landlocked country in the southern region of the Balkan Peninsula, north of Greece.
Area: 25,713 km² (9,927 sq. mi.)
Geography: Situated, Macedonia is landlocked and mountainous.
Terain: The country is mountainous, bisected by the Vardar River.

Climate: Three overlaping climatic area types--Mediterranean; moderately continental; and mountainous, with hot, dry summers and cold, snowy winters.

People:
Nationality: 2 million.
Ethnic groups (2002): Macedonian 64.18%, Albanian 25.17%, Turkish 3.85%, Roma 2.66%, Serb 1.78%.
Religions: Eastern Orthodox 65%, Muslim 29%, Catholic 4% and others 2%.
Languages: Macedonian 70%, Albanian 21%, Turkish 3%, Serbo-Croatian 3%, and others 3%.
Literacy: 94%

Natural resources: Low-grade iron ore, copper, lead, zinc, chromite, manganese, nickel, tungsten, gold, silver, asbestos, gypsum, timber, arable land.

Agriculture products: Grapes, wine, tobacco, vegetables; milk, eggs.

Industries: Food processing, beverages, textiles, chemicals, steel, cement, energy, pharmaceuticals.

Exports partners: Germany 17.8%, Greece 15.3%, Italy 8.3% (2005)

Imports partners: Russia 13.2%, Germany 10.4%, Greece 9.2%, Bulgaria 7.3%, Italy 6% (2005)

Currency: Macedonian Denar (MKD)

Sources: Presidency of Republic of Macedonia and others.