Flag of Montenegro

Background:
Unlike other countries of the Balkan Peninsula, Montenegro was able to maintain its independence from the Ottoman Empire. From the 16th to 19th centuries, Montenegro became a theocratic state ruled by a series of bishop princes; in 1852, it was transformed into a secular principality and later it became part of the Kingdom of Yugoslavia.


border countries: Albania, Bosnia and Herzegovina, Croatia, Serbia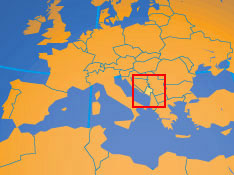 Official Name:
Republika Crna Gora
short form: Crna Gora
int'l long form: Republic of Montenegro
int'l short form: Montenegro

ISO Country Code: ME

Time:
Local Time = UTC +1h (in summer +2h)
Actual Time:

Tue-Feb-21 11:10



Country Calling Code: +382

Capital City: Podgorica, (pop.: 152 000)
Cetinje - Prijestonica (pop.: 20 000; former capital/seat of king/government)


Other Cities: Bar, Berane, Kotor, Niksic (second largest city), Pljevlja.

Government:
Type: Republic.
Constitution: Adopted 12 October 1992.
Independence: 3 June 2006 (Declared by parliament after referendum in favor of independence from state union of Serbia and Montenegro).

Geography:
Location: Southeastern Europe, between the Adriatic Sea and Serbia.
Area: 13,800 km² (5,332 sq. mi.)
Terrain: Varied; from the southwestern Adriatic coast with narrow coastal plains to mountainous regions with thick forests.
Highest peak: Bobotov kuk (Mt. Durmitor) 2 522 m
Largest lake: Lake Skadar - 391 sq. km

Climate: Mediterranean along the coast, continental upcountry with hot dry summers and autumns and relatively cold winters.

People:
Nationality: Montenegrin(s)
Population: 620,000 (2011 census)
Ethnic Groups: Montenegrin 43%, Serbian 31%, Bosniak 8 %, Albanian 5%, Muslim 5%, Croatian 1%, Roma .5% (2003 census).
Religions: Orthodox 74%, Muslim 18%, Roman Catholic 4% (2003 census).
Languages: Serbo-Croatian 95%, Albanian 5%
Literacy:

Natural resources: Bauxite, hydroelectricity.

Agriculture products: Grains, tobacco, potatoes, citrus fruits, olives, grapes; sheepherding; commercial fishing negligible.

Industries: Steelmaking, agricultural processing, consumer goods, tourism.

Exports partners: Switzerland 83.9%, Italy 6.1%, Bosnia and Herzegovina 1.3% (2003)

Imports partners: Greece 10.2%, Italy 10.2%, Germany 9.6%, Bosnia and Herzegovina 9.2% (2003)

Currency: Euro (EUR)

Source: Republic of Montenegro and others.