About Medan

Satellite view is showing Medan, a major port, largest city and the provincial capital of North Sumatra,

Indonesia. The city is located in the northeast of Sumatra, the sixth- largest island in the world.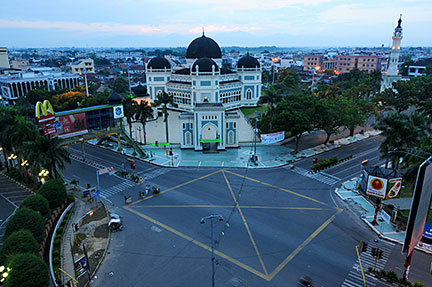 Image: Batubara Ismail RahmatAccording to history, the city was founded at the confluence of the Deli River and the Babura River in the end of the 16th century by Guru Patimpus, a Pemena religious teacher (Guru) who later converted to Islam. The place was then known as Tanah Deli (Deli land) and the village as Medan Putri and Medan-Deli.

Medan has a population of about 2.2 million inhabitants (in 2010

), more than 4 million people live in Greater Medan. Medan is Indonesia's fourth most populous city (after Jakarta, Surabaya, and Bandung).

Official language is Indonesian (Bahasa Indonesia), but the population of Medan consists of many diverse ethnic groups: Javanese, Batak, Chinese, Mandailing, Malay, Minangkabau, Karo, and Indian, all with their own culture and language.

Just zoom in (+) to see three of Medan's major tourist attractions: the Palace of the Sultan of Deli (Maimun Palace), the Great Mosque (Masjid Raya), and the historical Sri Deli Park.

The city is seat of the University of North Sumatra (Universitas Sumatera Utara

) and the Islamic University of North Sumatra (Universitas Islam Sumatera Utara

).

The map shows a city map of Medan with expressways, main roads and streets, and the location of Kualanamu International Airport

(IATA code: KNO) which replaced Polonia International Airport (IATA code: MES) on 25 July 2013, today Polonia International Airport is used by the Indonesian Air Force, now known as Soewondo Air Force Base. Kualanamu Airport is located 30 km east of Medan.

To find a location use the form below.

To find a location type: street or place, city, optional: state, country.


Local Time Indonesia:

Sunday-October-1 14:57

UTC/GMT +7 hours