About Volgograd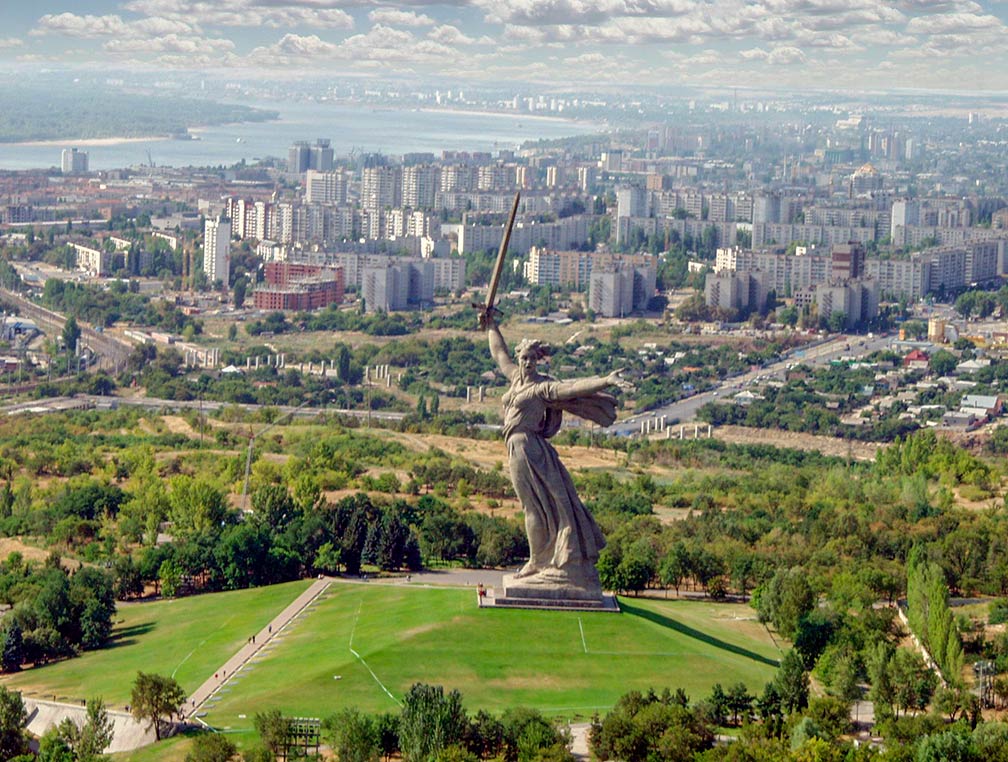 Image: Administration of the Volgograd Oblast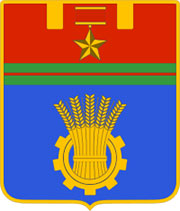 Satellite view and map shows Volgograd (Russian: Волгогра́д), an important industrial city in south-western Russia. The city is located in the flatland zone between the Volga and the Don Rivers, two major rivers in European Russia. The city's urban area extends about 60 km (37 mi) along the western bank of the Volga river.

Volgograd is the administrative center (capital) of Volgograd Oblast (province). From 1925 until 1961 the city was known as Stalingrad and was the site of WWII's Battle of Stalingrad.

Short history
The city's history dates back to the time when the fortress of Tsaritsyn was built in 1589 by czaristic Russians, one of several fortress cities along the River Volga. Around the fort a Russian settlement developed. The wooden fort was built to protect the newly acquired Tsardom territory along the Volga and to ensure Russia's control over the Volga trade route and the safety of navigation.
The fortress was captured by Cossacks in 1670 and in 1774 there was an unsuccessful attempted by Cossack rebels to storm the city.
During the Russian Civil War (1918–20), Joseph Stalin organized the defense of the city in a major battle against the White Russian armies, and the city was later renamed in his honor. [1]
In August 1942 the armies attempted to capture Stalingrad. The attempt of the Germans reduced the city to rubble, and and much of the civilian population has fled the city. After the war, the city was completely rebuilt in the style of the late Stalinist architecture of the 1950s and 1960s.
On 10 November 1961, Nikita Khrushchev changed the name of the city to Volgograd ("Volga City") as part of his program of de-Stalinization, a series of political reforms in the Soviet Union after the death of long-time leader Joseph Stalin in 1953.


Volgograd today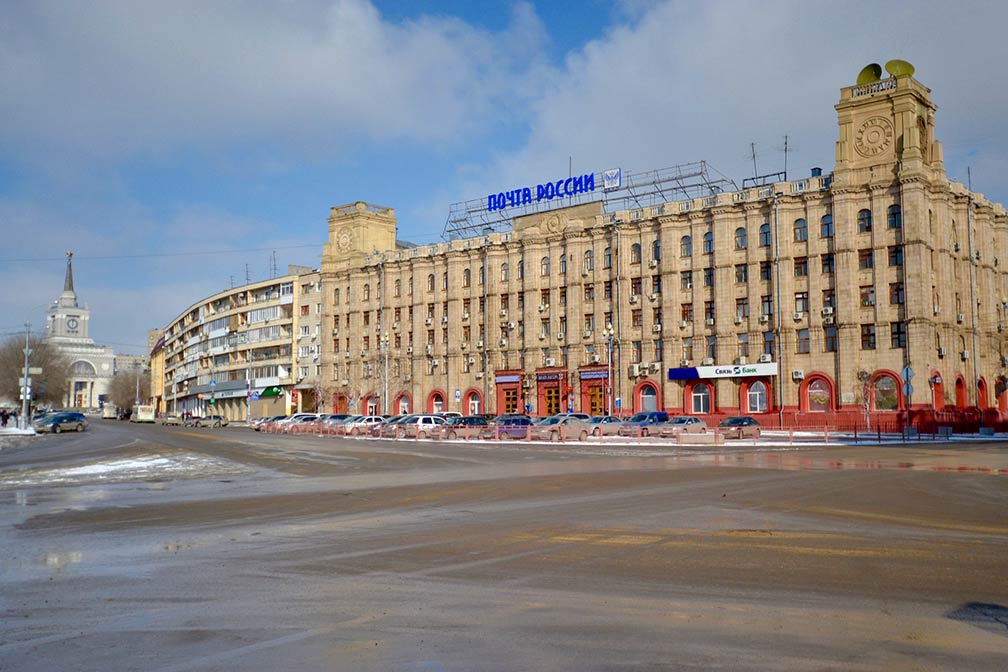 Image: Paul Jeannin
The city's economy is based on steel and aluminum production, shipbuilding, engineering products, timber goods, building materials, chemical production and foodstuffs. An oil refinery was built in 1957 and the Volga Hydroelectric Station was completed in 1961, at that time the largest hydroelectric power plant in Europe.

The city is home to the University of Volgograd, established in 1980.



Points of interest
The city was the site of WWII's Battle of Stalingrad, the epic 66-day German horror siege of Stalingrad ended with a terrible statistic, with hundreds of thousands of soldiers dead, wounded, missing, or captured. The historic event is commemorated at many places and institutions in and around the city. The largest memorial is the huge statue of The Motherland Calls. The monument is located on Mamayev Kurgan (aka Hill 102), it is the tallest free standing Mother Russia monument in the world. The Panorama Museum of the Battle of Stalingrad is a large museum complex showcasing the events of the Battle of Stalingrad in several display halls and in a 360-degree panorama. Outside of the museum is the shell of Grudinin's Mill, an old steam mill, which was destroyed during the battle, it is preserved as a stark reminder of the horrific event.

Other attractions
New Experimental Theatre, the performing arts theater was the first experimental theater in the Soviet Union, established in 1988.
Tsaritsin Opera, Volgograd's opera house resides in the building of the former culture palace, opened in 2004 (http://tzaropera.ru/).

Volgograd Planetarium, the only planetarium in the Lower Volga region (http://volgogradplanetarium.ru/). The planetarium was a gift of the workers of the German Democratic Republic to the Soviet people on the occasion of the 70th anniversary of Stalin.

2018 FIFA World Cup
Volgograd is one of the eleven Russian cities that will host the 2018 FIFA World Cup. Volgograd Arena, the future home to FC Rotor Volgograd, will be the venue of the matches between Tunisia vs England, and Nigeria vs Iceland.


Transportation
Volgograd is a major railway junction. Volgograd railway station (Volgograd-Glavny) is located in the Central District of the city.

The 100 km long Volga–Don Canal connects the the lower Volga River and the Don River. The canal provides a navigable connection for river-crafts and smaller seagoing vessels between the Caspian Sea and the Sea of Azov (Black Sea). Via the Volga–Baltic Waterway, a series of canals, rivers and lakes, the Volga River is linked with the Baltic Sea as well.

The Map shows a city map of Volgograd with expressways, main roads and streets, and the location of Volgograd International Airport ((Russian: Международный Аэропорт Волгоград) IATA code: VOG). The airport is located about 18 km (11 mi; 25 min) by road, northwest of the city. The airport serves the city of Volgograd and the region of Volgograd Oblast.

To find a location use the form below. To view just the map, click on the "Map" button.