About Greenland

Satellite view is showing the greatest island on Earth. The island is a self-governing territory of Denmark. With an area of 2,166,086 km², Greenland is the 12th largest country in the world, almost four times the size of France, or slightly more than three times the size of the U.S. state of Texas.

Indigenous people from the North American continent settled in Greenland over 4,500 years ago. Around 1,000 years ago Greenlandic ancestors (the Thule Culture) settled in northern Greenland, whereas Scandinavian Viking settlers arrived in the southern Greenland around the same time.

Greenland lies in the Arctic Region to the northeast of North America, more than two-thirds of the region lies within the Arctic Circle. The frosty island is bordered by Baffin Bay and Davis Strait in west, and the Arctic Ocean in the north, the Greenland Sea and the Atlantic Ocean in east. An ice sheet covers more than 80% of the island; the rest is permafrost - just barely. The ice sheet is still 3 kilometers (1.9 mi) thick with an area the size of Mexico. Hidden underneath the ice is Greenland's Grand Canyon, just recently discovered by NASA's Operation IceBridge in 2009. Ice-penetrating radar data showed a huge subglacial canyon, described as a mega-canyon. Without the ice sheet, Greenland would look more like a giant atoll than an island.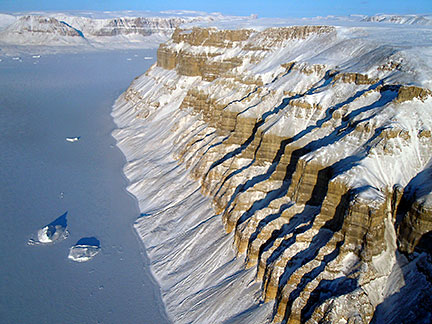 Greenland's landscape is really amazing, there is a 44,000 km long fractal coastline with rocky ridges and deep canyons or fjords. The island is covered by ice, laced by more than fifty, centuries old glaciers, slow rivers of dense ice that is constantly moving under its own weight. Highest point is Gunnbjørn Fjeld, located in the Watkins Range near the east coast of the island the highest mountain in the Arctic circle.

Most of its population of just about 57,000 (in 2015) lives along the ice-free coast, particularly in the southwest. The territorial capital of Greenland is

Nuuk (Godthåb).

Related countries are: Canada, Denmark, and Iceland.

The map shows, as you can see, a vast Greenland and, only when you zoom in, a small Nuuk (formerly Godthåb) with some streets.

To find a location should not be very difficult, just use the form below (the code word is Nuuk, to detect life in Greenland).

To view the map, click on the "Map" button.

To find a location type: street or place, city, optional: state, country.


Local Time Greenland (Nuuk):

Saturday-September-30 02:15

Time zone: West Greenland Time (WGT) UTC/GMT -3 hours
Daylight Saving Time from end of March - end of October
UTC/GMT -2 hours