About Nuuk

Satellite view is showing the Nuuk, seaport, largest municipality and capital of

Greenland, an autonomous country within the Kingdom of Denmark and the world's largest island. The city is located at the mouth of the Nuup Kangerlua inlet at Davis Strait on the southern west coast of Greenland.

The city was founded as fort Godt-Haab in 1728 by Claus Paarss, a Dano-Norwegian military officer, and Hans Egede, a Lutheran missionary. Godthaab became the seat of government for the Danish colony of South Greenland until 1940, when Godthaab became the capital of whole Greenland.

Today Nuuk has a population of about 17,000 inhabitants (in 2015).
Spoken languages are Greenlandic (Kalaallisut) and Danish, English is widely spoken.
The city is home to the University of Greenland (Ilisimatusarfik).

Nuuk has a maritime-influenced polar climate with cold, snowy winters and cool summers, when temperatures rarely exceed 10 °C (50 °F).

The map shows a city map of Nuuk with expressways, main roads and streets, and the location of Nuuk Airport (IATA code: GOH).

To find a location use the form below.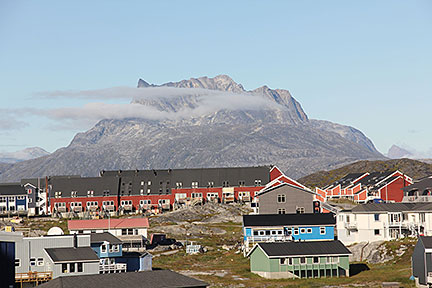 Image: Niels Elgaard Larsen
Bookmark/share this page
To find a location type: street or place, city, optional: state, country.


Local Time Nuuk:

Sunday-December-10 02:19

Time zone: West Greenland Time (WGT) UTC/GMT -3 hours
Daylight Saving Time from end of March to end of October
UTC/GMT -2 hours