Belize is a country on the Caribbean coast of Central America, it is bounded on the north and part of the west by

Mexico, on the south and the remainder of the west by

Guatemala, and it shares maritime borders with

Honduras.



Belize

was

p

roclaimed a British Crown Colony in 1862, t

he country was known as British Honduras until 1973, it

became independent within the Commonwealth of Nations in 1981. Guatemala has long claimed the territory of Belize, on the basis of old Spanish treaties, although in 1992 it agreed to recognize the existence of Belize.

With an area of 22,966 km², the country is about twice the size of

Estonia, or slightly smaller than the U.S. state of Massachusetts.

Belize has a population of just

361

,000 (census 2015), making it the most sparsely populated nation in Central America, but on the other hand it is a melting pot of many races and cultural groups. The two largest groups are Creoles (English-speaking or Kriol-speaking people with an African heritage, and people of mixed African and European heritage), and Mestizos, (Spanish-speaking people of mixed Mayan and Spanish European heritage). In addition there are Garifuna (Afro-Carib people originally from the Lesser Antilles), Maya (descendants of the original inhabitants), East Indians, Chinese, Arabs, and Europeans. Spoken languages are English, which is official, Kriol, Spanish, Garifuna, and Maya.

Belize's national capital is the city of Belmopan, located in the center of the country at Belize River. Former capital, largest city, principal port and financial and industrial hub of the Central American nation is Belize City.


Geography of Belize
Belize's landscape is divided into a variety of natural regions, the low mountain range of the Maya Mountains, with the country's highest peak (Doyle's Delight1,124 m; 3,687 ft), and the northern lowlands drained by 18 major rivers and streams.
Other major rivers are the Belize River which is is navigable up to the Guatemalan border. The river has served as the main artery of commerce and communication between the interior and the coast until the twentieth century. The Hondo River marks Belize's border to Mexico in north while the Sarstoon River defines most of its southern border.
Its eastern seaboard has numerous marshy lagoons. Along the Belizean coast there are about 450 offshore Cayes (islands), and there is the Belize Barrier Reef, with one of the most diverse reef ecosystems in the world. Belize's top tourist destination has a length of about 260 km, it is among the world's longest barrier reefs.

Map is showing the Central American country with international borders, the national capital Belmopan, province capitals, major towns, villages, main roads, secondary roads, the country's only international airport, Philip S. W. Goldson International Airport, formerly known as Belize International Airport (IATA code: BZE) northwest of Belize City near the town of Ladyville.




You are free to use this map for educational purposes, please refer to the Nations Online Project.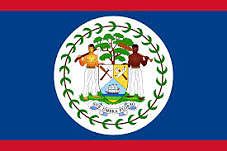 Bookmark/share this page


One World - Nations Online
All Countries of the World