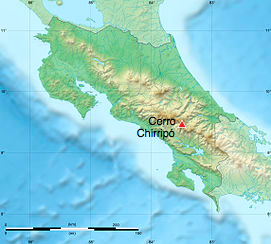 Costa Rica relief, showing its mountain chain and the location of Mount Cerro Chirripo.
Cities in Costa Rica

The map shows the location of Costa Rican cities and towns:

Largest cities in Costa Rica are: San José (capital; pop.: 310,000), Limón (Puerto Limón, second largest city and primary port; pop.: 56,000), Alajuela (pop.: 43,000), San Francisco (pop.: 41,000)

Other cities, towns, and places:
Bagaces, Bolivia, Bomba, Boruca, Bratsi, Buena Vista, Buenos Aires, Cabuya, Cahuita, Canas, Canoas, Caño Negro, Cariblanco, Carmona, Cartago, Castilla, Chaparron, Cocles, Colorado, Colorado, Corina, Coronado, Cuajiniquil, Cuajiniquil, Cuajiniquil, Cuatro Bocas, Delta del San Juan, Dominical, Drake, Esparza, Filadelphia, Frailes, Garza, Golfito, Grecia, Guacimo, Guapiles, Guatuzo, Guayabos, Hacienda Porvenir, Hacienda Trancas, Hatillo, Heredia, Herradura, Hojancha, Jaco, Juntas, La Cruz, Lapita, Liberia, Limonal, Los Chiles, Mal Pais, Matina, Mesas, Miramar, Naranjo, Neily, Nicoya, Orotina, Pandora, Paquera, Paraíso, Piedras Blancas, Pilas, Pital, Platanal, Portegolpe, Puerto Cortes, Puerto Culebra, Puerto Humo, Puerto Jimenez, Puerto Quepos, Puerto Soley, Puerto Vielo, Puntarenas, Puriscal, Quesada, Quina, Sabanilla, San Bartolo, San Isidro de El General, San Jose, San Marcos, San Pablo, San Pedro, San Ramon, San Vito, Santa Cecilia, Santa Cruz, Santa Teresa, Siquirres, Sirena, Suerre, Tambor, Tarcoles, Tenorio, Terraba, Tilaran, Tortuguero, Tres de Junio, Turrialba, Uatsi, Union, Upala, Uvita, Vueltas, and Zarcero.