Satellite view is showing the Brandenburg Gate in Berlin,

Germany's capital city.
The gate is one of the best known symbols of Berlin and of Germany as well.

It is one of the former city gates, built 1788–91 (the Quadriga, was installed in 1793), and it is the only one that survives.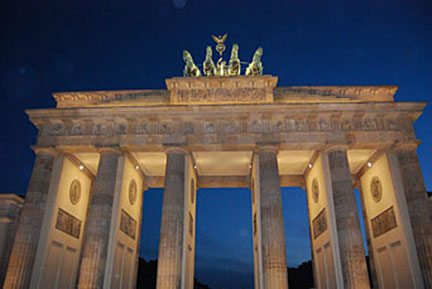 The Brandenburg Gate was a former city gate of Berlin

Image: Nations Online Project

The design of the gate is based upon the Propylaea, the gateway to the sanctuaries of the Acropolis in Athens, Greece.
The Brandenburg Gate consists of twelve Doric columns, six to each side, forming five passageways. Atop the gate is the Quadriga, the chariot of gods, drawn by four horses and driven by Victoria, the Roman goddess of victory. Today the Quadriga faces east, as it did originally.

The gate has played different political roles in German history, for example: after the 1806 Prussian defeat, Napoleon took the Quadriga to Paris. Some years later the Quadriga was restored to Berlin.

After the construction of the Berlin Wall in 1961, the gate stood in East Berlin, a conspicuous symbol of a divided city. After the fall of the wall it was reopened in December 1989.

Brandenburg Gate is located west of the city center at the intersection of Unter den Linden and Ebertstraße, immediately west of the Pariser Platz.

Zoom out to see some more of Berlin's landmarks.