Germany, officially the Federal Republic of Germany is a sovereign state in central Europe. It is the fifth largest country by area wholly in Europe, and the most populous European state with 80 million citizens (2012). Official language is German.

The Federal Republic of Germany consists of the federation of 16 states (referred to as Länder, or Bundesländer)
They are partially self-governing states and largely autonomous in regard to their internal organisation. Each state has its own constitution.

The states are (state capital in parentheses):

1. Baden-Württemberg (Stuttgart), 2. Bavaria (Munich), 3. Berlin (Berlin) , 4. Brandenburg (Potsdam), 5. Bremen (Bremen), 6. Hamburg (Hamburg), 7. Hesse (Wiesbaden), 8. Mecklenburg-Vorpommern (Schwerin), 9. Lower Saxony (Hanover), 10. North Rhine-Westphalia (Düsseldorf), 11. Rhineland-Palatinate (Mainz), 12. Saarland (Saarbrücken), 13. Saxony (Dresden), 14. Saxony-Anhalt (Magdeburg), 15. Schleswig-Holstein (Kiel), 16. Thuringia (Erfurt)

Germany is bordered in north by the North Sea, the Baltic Sea and Denmark, in west by the Netherlands, Belgium, Luxembourg, and France, in south by Switzerland, and Austria, in east by the Czech Republic, and Poland. Additionally the country shares maritime borders with Sweden, and the United Kingdom.

Depicted on the map is Germany with international borders, the national capital, the German states with boundaries, state capitals, and major cities.

Click on the country/state name on the map to get the respective country or federal state (Bundesland) profile or use the links above. Click on the (state capital) city name for a city map.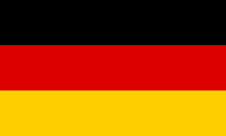 Bookmark/share this page


One World - Nations Online
all countries of the world