Searchable Map of Bremen using Google Earth Data

Satellite view is showing the region of the port city of Bremen, the Hanseatic city is situated in northwestern Germany along the Weser River about 60 km (37 mi) south from the North Sea.

Bremen, together with the City of Bremerhaven which is located north of Bremen at the coast of the North Sea, is one of the 16 Federal States of Germany.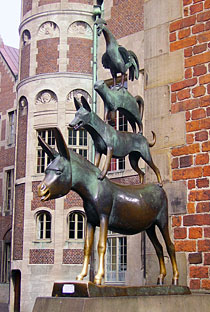 Gerhard Marcks's bronze sculpture of the Bremer Stadtmusikanten (Town Musicians) of the Grimm Brothers' fairy tale.

Bremen is since centuries an important seaport and and trading center. In addition, since some years several high-tech industries have settled in Bremen. Many of Germany's space technology exports are manufactured in EADS Astrium facilities in Bremen, such as the Columbus module of the International Space Station (ISS), the Automated Transfer Vehicle (ATV), designed to supply the ISS with propellant, water, air, payload and experiment, and Europe's Ariane 5 rocket upper stages. The telematics, space technology and satellite company OHB-System is also based in the city, as well as the Center of Applied Space Technology and Microgravity at the University of Bremen. The second biggest Airbus plant of Germany, producing the aircrafts' wing equipment, is also situated in the city.

The city of Bremen lies within the German Federal State of Lower-Saxony, it has a city population of about 550,000 inhabitants, the population of the Land Bremen (state) is about 664,000 inhabitants.

The Map shows a city map of Bremen with expressways, main roads and streets, and the location of Bremen Airport (IATA code: BRE) 3.5 km (2.2 mi) south of the city.
Zoom out to see the borders of the city-state, which includes the city of Bremerhaven to the north.

To find a location use the form below. To see just the map click on the "Map" button.



To find a location type: street or place, city, optional: state, country.


Local Time Bremen:

Saturday-September-30 03:22

Standard Time Zone (CET): UTC/GMT +1 hour
CEST (Daylight Saving Time) in use from end of March until end of October. Time zone offset: UTC/GMT +2 hours