About Bern

Satellite view is showing the Federal City of Berne, and de facto capital of

Switzerland, as well as the capital of the Canton of Berne.

The city is situated on the Swiss plateau between the Jura and the Alps, approximately in the center of the country surrounded by the Aare river.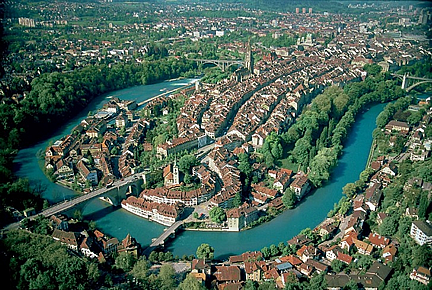 Bern at the Aare river from above.

Berne was founded in the 12th century. Today the city has a population of 129,000 (in 2014), in its metropolitan area there live about 660,000 people.

The official language of Berne is German, the local Swiss German dialect is Bernese German, spoken by most of the inhabitants.
The Old Town of Berne

is a UNESCO World Heritage Site since 1983.

Just zoom (+) in to see Bern Bundeshaus, the Federal Palace of Switzerland, it houses the Swiss Federal Assembly and the Swiss Federal Council.

Bern Points of Interest:
Some other attractions in the city are, the Bern Münster, the Cathedral is the city's most impressive example of Late Gothic architecture, its construction began in 1421. The Historical Museum of Bern (houses also the Einstein Museum), the Swiss Alpine Museum, a platform for Alpine themes, and the Paul Klee Center which features about 40 percent of Paul Klee's entire work.

The map shows a city map of Bern with expressways, main roads and streets, zoom out to find the location of Airport Bern-Belp (IATA code: BRN).

To find a location use the form below. To view just the map, click on the "Map" button.

To find a location type: street or place, city, optional: state, country.


Local Time Berne:

Wednsday-October-4 05:53

Standard Time Zone (CET): UTC/GMT +1 hour
CEST (Daylight Saving Time) in use from end of March until end of October. Time zone offset: UTC/GMT +2 hours